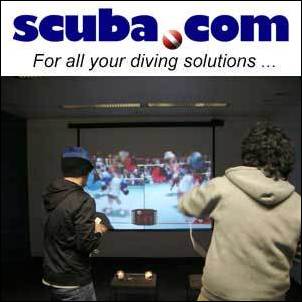 In the meantime, we have a staff party planned around a Wii golf tournament next month so everyone is busy practicing their swing.
Irvine, CA (PRWEB) January 28, 2007
Scuba Diving is as much fun as you can possibly have in the water but when the weather turns cold it's nice to have indoor diversions, so the team of scuba.com installed a new goodie into their 800 square foot break room.
"We wanted a fun activity and considered all the normal stuff like a pool table, but we ended up choosing Wii since it is a highly interactive gaming system that allows for multiple players and offers a ton of fun games ... all with no footprint." States General Manager, Melinda Herndon.
Once they decided on the perfect system, the challenge began. The original plan was to view it on a 50" plasma TV, but it was too difficult to play a four person game of tennis with so many players crowded around so small a screen, so they decided to shred the budget.
The Scuba.com break room now houses the impressive game system and is a fun inducing center for the company. A remote-controlled Digital Laser Projector (DLP) is connected directly into the Wii and depicts vivid images on an 8-foot screen which encompassing an entire wall of the room. Surround sound speakers enhance the entertainment experience. As a bonus, a DVD player is integrated with the system for those extra long lunch breaks. Scuba.com employees occasionally drop in for a quick boxing match.
Installing the system was a feat in itself. Contractors constructed a special box to house the unit alongside the projector only to find out that the infrared bar had to be positioned in front of the screen to make the controllers functional. The distance was too great to bridge with the standard 12' power cable that attaches the infrared emitter to the Wii, so the cable was spliced and extended.
They were still not getting very responsive action with the controllers so they did some web research and found out that a couple of lit candle can help enhance or even substitute for the function of the infrared emitter. This perfects the response of the controllers and creates an unusual ambience.
If you are planning a larger installation of the Nintendo Wii gaming system, the team at scuba.com ofers an enthusiastic thumbs up. This game system comes with an enthusiastic recommendation from the team at Scuba.com who anxiously awaits word of whether a gaming company will design a virtual Wii scuba diving game to assist with training on buoyancy control, navigation and best practices for various diving conditions. "If something doesn't hit the market soon, we'll have our programming department design it." States Melinda Herndon. "In the meantime, we have a staff party planned around a Wii golf tournament next month so everyone is busy practicing their swing."
###