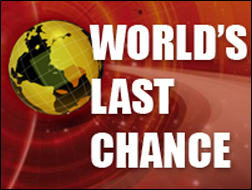 (PRWEB) January 31, 2007
World's Last Chance (http://www.worldslastchance.com) is exposing one of the last unfulfilled prophecies of the Bible which destines John Paul II to be the next pope after Benedict XVI.
"How will the next pope be John Paul II?" challenges Dahlia Doss of World's Last Chance, "According to the book of Revelation in the Bible, chapter 17, it will appear to the entire world that John Paul II has returned from heaven, but in reality, this phenomenon, as prophesied, will be a demon impersonating the deceased John Paul II." World's Last Chance has released a video depicting this discovery.
For a glimpse at what is going to swarm the media very soon, click here:
http://www.youtube.com/watch?v=QUH4fu4NheQ, or here:
http://video.google.com/videoplay?docid=3069268071095400057&hl=en.
John Paul II happens to be the most loved pope in modern history. The World's Last Chance Team believes that this is one of the reasons why Satan will choose to impersonate him. According to the prophecy, John Paul II will appear as the 'resurrected' pope 'returning from heaven' with a special message embracing a 'divine commission' directly from God. He will claim that this message is the only solution to the ever-incrementing and rapidly escalating calamities of this world. But in reality, his evil commission is inspired by the father of lies with the sole goal of deceiving and eternally ensnaring the whole world.
"We would not dare make such a crazy and obnoxious assumption, at the risk of our reputation and even our lives, if it were not based on sound interpretation of infallible Biblical prophecy. The Bible is the only accurate prophecy book which has never failed the test in providing, at innumerable times throughout history, the most accurate prophecies often thousands of years before they even happened. How can we question such a divine authority?
"After becoming aware of this, you remain at liberty to ignore, accept, or reject this divine warning in Revelation 17," Doss reflects, "However, it is unwise to ignore divine premonitions without ascertaining their source, nor is it safe to reject an interpretation whilst being unable to fault it, or at least find another explanation that so accurately fits this yet to be fulfilled prophecy as does this interpretation. This is the present challenge, open for all."
The video in the following links reveals the details of Satan's hidden agenda: http://www.youtube.com/watch?v=QUH4fu4NheQ or http://video.google.com/videoplay?docid=3069268071095400057&hl=en
For an in-depth study that unlocks the keys to this prophecy, and reveals the secret agenda and the special "message from Heaven" of John Paul II impersonated, click here: http://www.worldslastchance.com/next_and_last_pope.php
About World's Last Chance
World's Last Chance is a ministry operated by a small team of volunteers dedicated to sharing, the last message of mercy given in the Bible, before the Second Coming of Christ.
The Bible, and the Bible alone, is their creed and rule of faith because God's Word is infallible. Adhering to the Bible only, rather than man's tradition, inspires them to call attention to the fact that God's holy day of worship is Saturday and that worshipping God on His holy day will be the final test for God's people before the Second Coming - will we obey God or man?
###