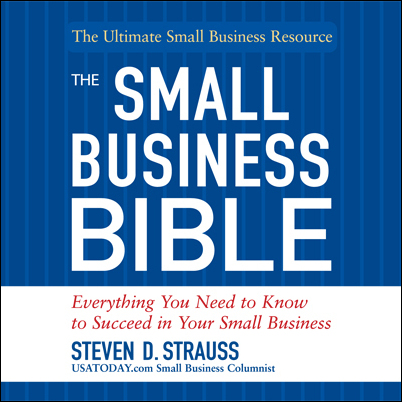 New York City, NY (PRWEB) January 30, 2007
Covering all aspects of small business operations and strategies, The Small Business Bible -- now on audiobook from Gildan Audio -- offers easy-to-understand information on almost every topic, including:
Developing your business idea

Buying an existing business or franchise
Writing a winning business plan
Hiring, rewarding, and firing employees
Branding your business
Bookkeeping and credit made easy
Insurance and legalese
Marketing and publicity
Home-based businesses
Operating and growing on a shoestring budget
Common mistakes to avoid
After listening to the secrets of great entrepreneurs, real-life success stories, and cutting-edge strategies that work, and turn your dream of running a successful business into a profitable, fun and exciting reality.
Author
Steven D. Strauss is a lawyer, business columnist, popular speaker, and one of the world's leading small business experts. His popular, widely syndicated column, "Ask the Expert," appears weekly on USATODAY.com. He has appeared on CNN, CNBC, Bloomberg Television, MSNBC, Court TV, the BBC, and ABC News. He has been featured in Entrepreneur magazine, Investor's Business Daily, and the Los Angeles Times.
About the Audiobook:
Title: The Small Business Bible
Author: Steven D. Strauss
Format: 9 CD/11 hours
Price: $29.98 (US) / $38.98(CAN)
ISBN: 1-59659-074-2
Available: January 2007
Published by Gildan Media Corp. This audio title is available at all fine book retailers, on-line and as a download at iTunes and http://www.audible.com
Also published this month by Gildan Media: The Baron Son, The Four Spiritual Laws of Prosperity and Close Like a Pro.
Your coach in a box is a line of personal development audiobooks from Gildan Audio that bring bestselling authors and lecturers directly to you, at the best prices around.
Please visit http://www.gd.simpleology.com for a special offer.
Gildan Audio is a division of Gildan Media Corporation, a multimedia publisher of books, audiobooks and software. Gildan Audio titles are distributed to the trade by Hachette Book Group USA. More about Gildan Media can be found at http://www.GildanMedia.com.
###