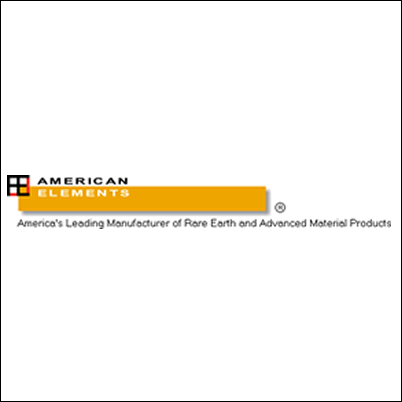 Los Angeles, CA (PRWEB) January 30, 2007
American Elements announced plans to merge the sales and distribution of its hafnium products into a single marketing product group.
American Elements is a manufacturer specializing in hafnium based metal, alloy, compound and crystal materials, including hafnium rod, pellets and foil, hafnium carbide, hafnium crystal structures such as hafnium telluride and hafnium selenide and hafnium compounds, such as hafnium chloride, hafnium nitrate, and hafnium oxide. Hafnium for deposition and evaporation uses in thin film and coating applications include hafnium foil, hafnium sputtering targets, hafnium rod and hafnium pellets and hafnium oxide as tablets and pellets.
This expanded availability of hafnium forms will advance the to use of hafnium to replace polysilicon as the principle gate or electrode material in metal oxide semiconductor field effect transistors (MOSFETs) which are the basis for all modern semiconductors. As semiconductors have gotten smaller, the limiting factor in further size reduction has been the ability of the silicon oxide gate to perform below 10 angstroms where leakage occurs. Recent research has been devoted to the development of High-k materials which can function as
di-electric barriers or gates with lower leakage. Using hafnium based alloys as this di-electric gate has allowed for the development of MOSFET gates smaller than 10 angstroms. This also allows for further size reduction, reduced switching power requirements and improved performance.
This consolidation is intended to streamline sales and customer support and combine production capabilities where possible for better efficiency. The consolidation will not result in any worker or staffing reductions.
For further technical and pricing information on American Elements products, please visit us at http://www.americanelements.com or contact your local American Elements distributor or American Elements U.S. corporate headquarters at (1)310-208-0551 or FAX (1)310-208-0351. American Elements is America's leading manufacturer and supplier of rare earth and other advanced material products with distribution offices in Europe, Asia, South America and India.
###