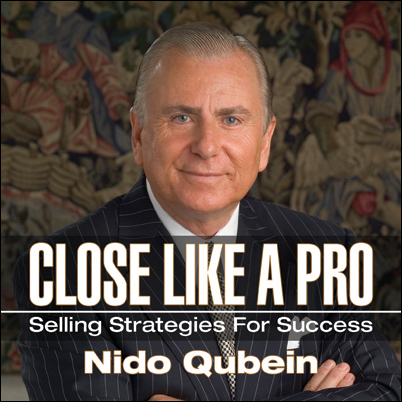 Like Zig Ziglar, Quebein inspires listeners and readers to greater success with enthusiasm and energy.
New York City, NY (PRWEB) January 30, 2007
A sales career can be the route to the good life, or a sentence to a life of frustration. It all depends on the way the salesperson thinks and performs.
Nido Qubein, a mega success story, who came to the United States as a teenager, with little knowledge of English, no contacts and only $50, shares with everyone his simple, but highly effective 12 step program for selling success.
Boost your selling power. Polish your selling savvy. Propel your career to better productivity performance and profitability. This complete course is for the Pro and novice alike.
It's time to get with the program, and Close Like a Pro!
The Crucial Success Ingredient
Make Your Prospects Sit Up and Take Notice
Boost Your Selling Effectiveness
Add Power to Your Persuasion
Communicate Effectively: The Foundation of Selling Success
Work Smarter, Not Just Harder
Become Your Customer's Consultant
Use Questions to Boost Your Sales
You Can Focus for Maximum Impact
Make Powerful Presentations
Turn Objections into Sales
Close Like the Pros
"Like Zig Ziglar, Quebein inspires listeners and readers to greater success with enthusiasm and energy." - Library Journal
Nido Qubein is president of High Point University with more than 3,000 undergraduate and graduate students in High Point, NC and chairman of Great Harvest Bread Company, which has 218 stores in 41 states. As one of America's foremost speakers on business management, leadership, communication, branding, and reculturing, he has traveled the globe addressing over 5,000 audiences to date. His numerous books and multimedia programs have been translated in over a dozen languages and sold worldwide. For Nido Qubein's complete learning resource center including dozens of free articles and self-evaluation quizzes, please visit http://www.nidoqubein.com.
About the Audiobook:
Title: Close Like A Pro
Author: Nido Qubein
Format: 4 CD/4 hours
Price: $19.98 (US) / $25.98 (CAN)
ISBN: 1-59659-075-6
Available: January 2007
Published by Gildan Media Corp. This audio title is available at all fine book retailers, on-line and as a download at iTunes and http://www.audible.com
Also published this month by Gildan Media: The Small Business Bible, The Baron Son and The Four Spiritual Laws of Prosperity.
Your coach in a box is a line of personal development audiobooks from Gildan Audio that bring bestselling authors and lecturers directly to you, at the best prices around.
Please visit http://www.gd.simpleology.com for a special offer.
Gildan Audio is a division of Gildan Media Corporation, a multimedia publisher of books, audiobooks and software. Gildan Audio titles are distributed to the trade by Hachette Book Group USA. More about Gildan Media can be found at http://www.GildanMedia.com.
###