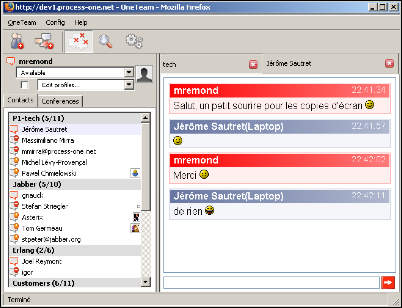 Paris (PRWEB) January 30, 2007
Process-one, specialist in High-Performance Instant Messaging solutions, announces its corporate instant messaging client developed in AJAX / Mozilla XUL technologies. This new client aims at creating a convenient and productive tool for professional real time collaboration.
Today at the Linux Solutions Event in Paris, Process-one unveilled the core of its extensible Instant Messaging client called OneTeam.
This new client can be used without any installation, to ease the deployment of the platform in large organisations. The client however offers a rich interface thanks to Mozilla Firefox technologies.
OneTeam handles presence, one-to-one chat, file tranfert, user business card and groupchat in realtime. Based on the XMPP protocol, it enables both secure and private chat inside the company, but can also be opened in a control manner to selected servers in partner organisations.
The development team has put a lot of effort on users productivity, with exclusive features to create work profiles matching the user mindset. For example, it is possible to be interrupted only by people working on the same project at a given time. Other messages will be delayed until a moment you have choosen. This feature set make it the perfect collaboration tool on the workplace.
A private beta of OneTeam is launched today on Process-one site: http://www.process-one.net/en/oneteam/
The project is expected to be largely available at the end of march 2007.
About Process-one
Process-one is a company specialized in high-performance messaging solutions. The company actively develops the ejabberd server and offers strong commercial support for ejabberd installations around the world. It has customers managing millions of registered users and, as a result, Process-one has emerged as one of the major messaging solution providers.
For more informations, please visit: http://www.process-one.net/
Contact: contact @ process-one.net
###