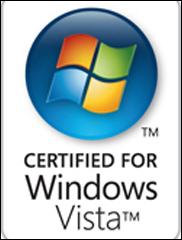 Our experience developing Vista certified solutions has improved the overall quality of our product offerings
Los Angeles, CA (PRWEB) January 30, 2007
In support of Microsoft's goals for the adoption and deployment of Vista to the Windows marketplace, Lieberman Software Corporation has already completed Vista certification for five products, the most in the systems management market. The Vista product certifications ensure that Lieberman Software will continue to deliver scalable and reliable solutions to its customers as they migrate to the new computing platform.
Lieberman Software is a Microsoft Gold Certified Partner in the ISV competency. The company provides automated systems management solutions which reduce the cost and complexity of manually administering the Microsoft-based enterprise. These solutions provide the ability to proactively control the Windows infrastructure, delivering improved manageability, productivity, and security for the entire enterprise.
"We launched a strategic initiative to develop Windows Vista certified applications well in advance of the release of the new operating system," said Phil Lieberman, president of Lieberman Software. "We leveraged our close relationship with Microsoft to meet every Windows Vista certification standard because we believe that this new platform will be an integral element of our customers' future enterprise deployments."
Lieberman Software has been extensively involved with Microsoft regarding Vista in development, end-user testing, and marketing efforts. The company's commitment to Vista began approximately three years ago when it joined the Windows Vista Beta Program. It also participated in the Early Experience Program for Vista, an exclusive group of Microsoft partners delivering key applications to Microsoft Global Accounts. Additionally, Lieberman Software cooperated in the Microsoft Technology Adoption Program (TAP), which verified that its products ran reliably within the environments of Vista early adopters.
When Microsoft announced the Certified for Windows Vista Quality Logo Program, Lieberman Software began dedicating significant development resources to attain full Vista certification for its product line. The company built a test lab devoted exclusively to meeting the required specifications of the certification program. The combination of beta program participation, Early Experience Program membership, and internal testing and development resources accelerated Lieberman Software's ability to earn five Vista product certifications prior to the January product launch.
The company's current Vista certified solutions include User Manager Pro™, Random Password Manager Enterprise Edition™, Service Account Manager™, Account Reset Console™, and COM+ Manager™. These products can simultaneously manage thousands of systems from one central console and are utilized for password and account management, maintaining regulatory compliance, security threat assessment, and threat response/intrusion remediation. Other Lieberman Software applications are compatible with Windows Vista and are at various stages in the Vista certification process.
"Our experience developing Vista certified solutions has improved the overall quality of our product offerings," Lieberman said. "Enterprise customers can be assured that Lieberman Software will be an integral element in the effective management and support of Windows Vista."
About Lieberman Software Corporation
Lieberman Software Corporation provides advanced systems management solutions that reduce the cost and complexity of administering the Windows enterprise. By automating time intensive systems management tasks, Lieberman Software increases control over the Windows infrastructure, delivering improved productivity, performance, and audit-ready security. With products that simultaneously administer thousands of systems from a single console, Lieberman Software ensures that even the largest corporate, educational, and government enterprises remain managed, secure, and compliant. The company is a Microsoft Gold Certified Partner headquartered in Los Angeles, CA. For more information, please visit http://www.liebsoft.com.
Product and company names herein may be trademarks of their registered owners.
###