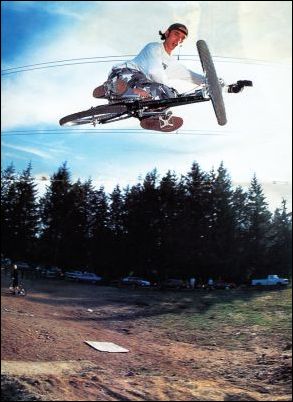 We're excited to be working with Diamondback; it gives us the opportunity to help a great brand become even greater
Portland, OR (PRWEB) January 30, 2007
TAOW Productions today announced they have signed a contract with Diamondback Bicycles to manage the company's world-class BMX Bicycle Team. Under the agreement, TAOW will be responsible for marketing and promoting the team's activities as well as coordinating logistics for the team's participation in worldwide competitions - activities designed to both promote BMX sports and increase consumer demand for Diamondback products and services.
The management contract between TAOW and the Diamondback BMX team also adds another valuable property to TAOW's cache of "cool market" influencers - trend leaders they can leverage to help corporate clients capture today's elusive young-and-hip demographic.
"We're excited to be working with Diamondback; it gives us the opportunity to help a great brand become even greater," said B. Scott Taylor, founder and president of TAOW Productions. "We plan on keeping these riders busy and spreading the diamondback love to sponsors and partners that want to share in the BMX action sports lifestyle."
The Diamondback BMX team will be managed by Kris "Jaymo" Jamieson, a senior account supervisor at TAOW and a former professional snowboard/skateboard athlete and BMX competitor. Jaymo will be working directly with Diamondback's marketing coordinator, Trevor Knesal, who is also a former BMX athlete. Jamieson and Knesal first met years ago when both were professional BMX riders. Their mutual respect and love for the sport was the catalyst for the new partnership between TAOW and Diamondback Bicycles.
"Jaymo is the real thing and our athletes and our fans wouldn't settle for anything less," said Knesal. "That is why we chose to work with TAOW and why we know this new partnership will certainly be a win/win for Diamondback, our corporate sponsors, and everyone else involved."
Diamondback represents the latest addition to TAOW Productions' growing list of key influencing properties. Over the last several months, the agency launched a number of campaigns that have created real brand loyalty between corporate sponsors, key market influencers and their fans. TAOWs most recent events have involved such lifestyle icons as hip hop star Kanye West, former NFL Quarterback Rodney Pete and Freeride Skier Sammy Carlson. Brand partners and TAOW's clients include Red Bull, Diesel, American Express and Pernod-Ricard, among others.
About TAOW Productions:
TAOW is a modern marketing agency that builds relationships between consumer brands and their core user groups. Through their access and creativity, TAOW provides high-value experiential campaigns that are unlike traditional marketing solutions. For more information on TAOW Productions or the Diamondback BMX Team, visit http://www.taowproductions.com or call (503) 228-1134. They will get back to you right after their lunchtime ride.
###