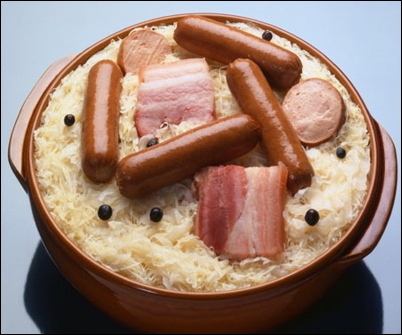 Among all childhood deaths in the U.S., cancer is second only to accidents as the leading cause, and the fetus and neonate are sensitive targets for toxic carcinogens
Bear Creek, Wis. (PRWEB) January 31, 2007 -
Pregnant women who eat cruciferous vegetables like Sauerkraut, cabbage, and broccoli may be improving their child's resistance to cancer, according to a recent study conducted at the Linus Pauling Institute at Oregon State University.
The research, published in the journal Carcinogenesis, was conducted with pregnant mice and revealed that a chemical found in Sauerkraut - Indole-3-carbinol - gave their offspring noticeable protection against leukemia and lymphoma at a young age, and against lung cancer later in life.
Ryan Downs, co-owner of Great Lakes Kraut, the world's largest Sauerkraut manufacturer, said the latest research augments earlier findings pointing to Sauerkraut as a key in preventing certain types of breast cancer. "The scientific evidence is growing and it's become clear that Sauerkraut is an important ingredient in a healthy diet."
According to institute researcher David Williams on the Oregon State web site, studies suggest infant cancers can arise when an infant is exposed to carcinogens during pregnancy or nursing.
"Among all childhood deaths in the U.S., cancer is second only to accidents as the leading cause, and the fetus and neonate are sensitive targets for toxic carcinogens," he said. "It would be important if we could affect this through maternal diet."
Chopping and cooking cruciferous vegetables, including cabbage that is processed to make Sauerkraut, creates Indole-3-carbinol. The institute's research found that the offspring of pregnant mice given the chemical had a 50 percent greater chance of surviving fetal exposure to carcinogens than those not receiving Indole-3-carbinol.
"It's clear that in mice this supplement (Indole-3-carbinol) provided significant protection against lymphoma, and, later on, lung cancer," Williams said. "It's also worth noting that none of the infant mice received the protective supplement later in their life, at any stage beyond breast feeding. The protective effect of the compound came solely from maternal intake during pregnancy and nursing, but lasted into the animal's middle age."
Silver Floss and Krrrrisp Kraut Sauerkraut are manufactured by the world's largest Sauerkraut producer, Great Lakes Kraut Co., LLC, Bear Creek, Wis. With processing facilities in Bear Creek and Shortsville, N.Y.--the best cabbage-growing regions in the world--the company combines modern technology and four generations of Sauerkraut-making expertise to produce the country's leading brands. Silver Floss canned and jarred Sauerkraut is found in the canned vegetable section of grocery stores in the East, South, and Midwest. Krrrrisp Kraut refrigerated Sauerkraut is located in the meat department at grocery stores nationwide. For more information about Great Lakes Kraut and its brands, visit http://www.sauerkrautnews.com.
###