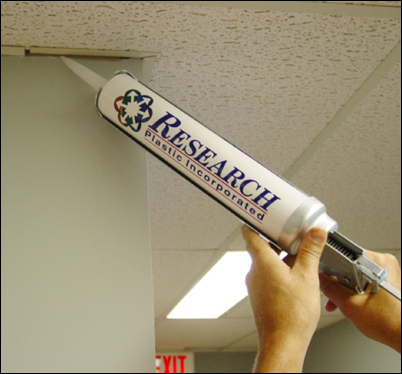 If the quart-size corrugated tubes are mishandled or a case gets dropped, there's going to be some damage
(PRWEB) January 31, 2007
Quart-sized caulking gun tubes can have problems. Manufactured from corrugated fiber and packed with mastic, joint compound or other material, they are heavy when full (often 3 to 5 pounds) and hence can be damaged in shipping, abused or damaged on job sites, and have their contents ruined by being opened and left out in the weather. In fact, spoilage and damage can be common enough that contractors take it in stride, simply writing them off and rush-purchasing new ones from the job site. But a new, revolutionary quart-size tube has now appeared on the market--great news, on many levels, for contractors everywhere.
"This new caulking tube is much more durable," says Ron Loffredo, Vice President of Technical Services for Chicago Adhesive Products Company (CHAPCO), manufacturers of adhesives for the floor-covering industry designed largely for commercial applications. "You really can't destroy them easily."
"If the quart-size corrugated tubes are mishandled or a case gets dropped, there's going to be some damage," Loffredo adds. "You'll have tubes that aren't going to be able to be used."
"The most immediate benefit is lack of spoilage," says Wayne Pullman, Vice President of Research Plastic, manufacturer of the new Contractor's Plastic Quart caulking gun tubes. "You don't get the wet, soggy cardboard tube left at the contractor's site, damaged, with product cured that you can't use again."
In addition to their durability, these plastic tubes also fully exclude moisture without the addition of separate inserts--a requirement for many fiber tubes.
Nozzles are another advantage for the new tubes--they are shipped separately and are screwed on right before product application. The separate nozzles eliminate an additional element that can be (and often is) damaged in transit, as well as 3 ½ to 4 inches per tube of extra needed shipping space.
The screw-on nozzle on the caulking gun tube also acts as its own seal; after opening, a small quantity of product will cure within the nozzle itself, but the next day the nozzle can simply be unscrewed, the small cured portion pulled out, and the nozzle replaced. Application can continue. With fiber containers, the nozzles are permanently attached and after opening cannot be resealed. The product often cures before it can be used up.
Loffredo says that that one of his company's products has a heavy viscosity, and the nozzles on the new containers are wider, making for better accuracy and smoother application. The small openings normally found on corrugated containers have not proven adequate.
There are also situations that require specialized nozzles, such as certain painting and plumbing applications. This normally necessitates purchase of separate nozzles by the contractor and application of them on-site. Research Plastic has addressed this problem as well, offering product manufacturers the option of custom-designed nozzles. The plastic tube and specialized nozzle can be sold as a single unit for that application, saving a contractor the considerable time and trouble of having to search for and purchase specialized nozzles.
These new caulking gun tubes accommodate nearly all products currently available in the fiber tubes--adhesives, sealants, mastic, and many other products.
For further information: Contact Wayne Pulman at Research Plastic, 5000 Howard Business Parkway R.R.#3, Windsor, Ontario, Canada N9H 2K8, or call toll free 1-877-990-9917 Ext. 29, or visit the web site at http://www.researchplastic.com
###