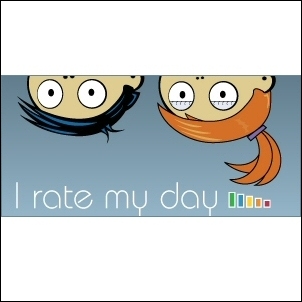 Blogging has reached a new level of personal interaction
Montreal, Canada (PRWEB) January 31, 2007
D2Soft Technologies Inc. announces the opening of a new type of social online community site, IRateMyDay.com, based on the innovative concept of "Instant Blogging."
The site, accessible at the address http://www.iratemyday.com, allows users to rate their day on a daily basis, ranging from "Worst" to "Great". Users can create a free profile on the site and see the progression of their feelings each month. Users may also share their ratings and interact with others on the site.
Based on all ratings given by the users, IRateMyDay.com generates usage statistics of the service. Users can compare their feelings through graphics on the site. Since the site is focusing on an international market, a world map displays all the feelings around the globe.
IRateMyDay.com is a social online community, similar to blogs, but unique in its concept. The site focuses on short entries of a few words about the user's current feelings. The concept is best described as "Instant Blogging" where each rating resembles a short sentence of instant messaging. The service is a complement to existing blogging sites and can even be integrated through the use of widgets.
"Blogging has reached a new level of personal interaction," says Benjamin Berube, D2Soft Technologies president. "In short, IRateMyDay.com simplifies the expression and communication of feelings and creates a world-wide solidarity."
In the early site testing, the concept has proven to work very well with a high number of users visiting the site each day to rate their feelings. Benjamin Berube explains how the simple concept is immediately understood by new users. "Users enjoy the site and become part of the community right away. I think this is in part due to successfully merging two concepts that all users know well: blogging and instant messaging."
Users from around the World can create their free profile by going to http://www.iratemyday.com and start rating their day.
D2Soft Technologies Inc. is a privately owned Canadian company located in Montreal. The company also develops two other products, News Interceptor and RSScache.com, known in the RSS technology market.
# # #