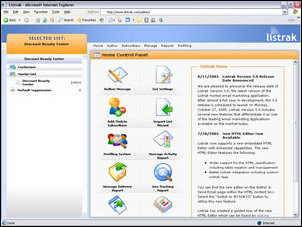 RSS has streamlined the way people communicate
Lititz, PA (PRWEB) January 31, 2007
Listrak, an award winning email marketing solution provider based near Lancaster, PA, announced that it is revolutionizing email marketing. Listrak has added a feature that allows users to insert RSS feeds containing links to social bookmarking sites to their email marketing campaigns. This feature combines the latest Web 2.0 technology with the power of Listrak's email marketing software, giving users an expanded marketing scope that is potentially limitless. Listrak's unprecedented email marketing software enables companies to decrease implementation costs while minimizing demands on their IT departments.
"Social bookmarking is quickly becoming a viable alternative to standard search engines," says Ross Kramer, CEO of Listrak. "People are sharing information like never before, and the new social bookmarking feature allows our clients to seamlessly integrate this new technology."
The social bookmarking feature works through Listrak's new RSS 2.0 system. Listrak users may add a social bookmarking link to the RSS enabled email, which allows the recipient to post the email's online landing page to a social bookmarking site, such as Digg or Del.icio.us. These sites enable users to publish and share their favorite websites online instead of inside their browser so others may view the information. Due to the nature of these sites, corporations cannot buy ad space or high rankings.
Listrak's RSS 2.0 system gives users the ability to create, manage, and report on RSS feeds using RSS enabled emails sent via Listrak's email marketing solution. This feature allows Listrak's clients to communicate with their customers, members, and subscribers more effectively using the power of RSS technology combined with the personalization of email marketing.
"RSS has streamlined the way people communicate," says Ross Kramer, CEO of Listrak. "Email marketing has always been a great way for companies to keep in touch with their customers. Now that we have implemented RSS technology to our email marketing solution, customer communication is on a whole new level."
Listrak RSS 2.0 offers many benefits to its users. Businesses will have a more direct way of communicating with their customers on a more personal level, which leads to increased customer satisfaction and loyalty, and an increase in the bottom line.
Listrak's targeted email marketing solution helps improve the success and profitability of marketing and IT efforts across all industries. To learn more about the Listrak email service; or to read articles, white papers, and customer newsletter archives, visit http://www.listrak.com.
About Listrak
Listrak is a leading provider of hosted email marketing software that allows permission-based marketers to manage, send, track and grow their email marketing investment. Listrak services clients such as Daimler Chrysler, Motorola, L'Oreal and the Islands of the Bahamas from its Lititz, PA headquarters. Listrak was named the 2006 Small Business Technological Excellence Award winner by the Philadelphia Chamber of Commerce, the 2006 Emerging Business of the Year by the Central Penn Business Journal, a Top Fifty Fastest Growing Company in 2006 and 2005 by the Central Penn Business Journal, and the 2005 Growth Company of the Year by the Technology Council of Central PA.
###