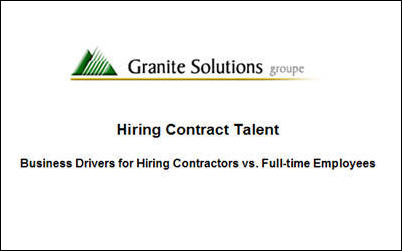 Technical expertise alone is not enough in filling many product and IT positions, which increasingly must understand the key business drivers in their respective areas
San Francisco, CA (PRWEB) January 31, 2007
The battle between line managers and HR managers over staffing strategies continues to rage, says Granite Solutions Groupe. A continuing tight labor pool intensifies this tension between HR recruiting managers and line managers needing to fill positions to get their work done.
Contractors become increasingly attractive in this conflict, as the labor pool ages and the need for both hard and soft skills increases. Areas of expertise and business processes continually overlap, with technology tying it together -- and the business/IT knowledge workers needed to make it all happen are in demand like never before.
"Technical expertise alone is not enough in filling many product and IT positions, which increasingly must understand the key business drivers in their respective areas," says John Henning, Granite Solutions Groups director of business development. "Our clients find more need for product and IT contractors with deep business acumen and strong interpersonal skills. This profile tends to appear more with age -- younger workers often need time to develop the business experience. Yet even among more experienced workers in the current labor market, this profile is not readily available."
To better their chances of finding candidates and contractors who understand business, Henning suggests that HR keeps current a deep candidate pool, and also affiliates with trusted external recruiting resources. Companies often don't know when staffing needs will reach a critical point where tensions can erupt. For example, Henning noted that one of its clients, a large national financial institution, completely reversed its position on hiring contractors within a three-week period -- much due to pressure from line managers.
A number of business scenarios typically drive the decision to hire contractors versus full-time employees. These include immediate staff augmentation, where project deadlines dictate speedy hiring timeframes; the need of the organization to reduce long-term financial commitments, as when staffing a growth spurt that may not last; and the ability to take advantage of non-budgeted opportunities, such as an unanticipated business opportunity that would strain current staffing levels. Contractors can also reduce management overhead, including the needs for regular performance reviews and HR administration involvement.
Additionally, corporations often find hiring a contractor helps direct focus and maintain accountability. A company may run across an unplanned yet lucrative opportunity, while putting the work onto existing staff may distract their attention to day-to-day opportunities, and accountability for the unplanned work often suffers. A contractor focused on the task can maximize the opportunity and maintain accountability, and not be distracted with other normal duties.
To download Granite's complete set of business drivers that impact recruiting in today's hot labor market, along with the top 10 Best Practices in the use of contractors, visit http://www.granitesolutionsgroupe.com/business_drivers.php.
Granite's contract consultants have the domain expertise and delivery track record today's businesses need without the high hourly rates associated with more traditional consulting firms. And since Granite is a recruiting firm, not a consulting firm, they are motivated to place contractors that can easily be converted to full-time employees when the situation calls for it, an increasingly popular method for acquiring new talent.
About Granite Solutions Groupe
Granite Solutions Groupe (Granite) is a San Francisco based recruiting firm that specializes in recruiting and placing highly-skilled senior-level Project Managers, Business Analysts, IT Managers and IT Contractors at global firms throughout the financial services and IT Market. They can be contacted online at http://www.granitesolutionsgroupe.com.
This press release was distributed through eMediawire by Human Resources Marketer (HR Marketer: http://www.HRmarketer.com) on behalf of the company listed above.
# # #