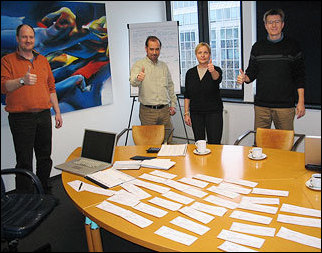 Users can easily share and embed slideshows of their uploads on MySpace, their blog, or other social networking sites to increase their chances of winning a piece of the jackpot
New York, NY (PRWEB) January 31, 2007
Spymac today announced that it has sent out the first batch of checks to people who have uploaded content to its new Web 2.0 portal for video chat, movies, photos and music sharing.
Daily Cash Payouts & Large Monthly Jackpots
Spymac shares the money it makes from advertisers with the members who upload the most popular pictures, movies and music.
"Our unique revenue sharing model has proven to be a hit with uploaders," said Holger Ehlis, Spymac's CEO. "We've already sent out thousands and we're now getting ready to pay out the large monthly jackpot to January's top contributors."
Spymac's revenue sharing model pays members based on two factors: the collective amount of revenue their content helps to earn and the popularity of their uploads, allowing quality uploaders to earn much more money from jackpots than on other revenue-sharing sites.
International Social Networking Site and Media Hub
Spymac provides its users with unlimited storage space and several tools to help them spread and promote their uploads, and creators are encouraged to market their own submissions.
"Users can easily share and embed slideshows of their uploads on MySpace, their blog, or other social networking sites to increase their chances of winning a piece of the jackpot," said Kevin April, CTO.
In addition to sharing multimedia, users can video-chat, find new friends and grow a network. "We've come a long way from the site we were years ago," said Ehlis, "We've grown mainstream and now focus on social networking and media sharing for everyone around the globe."
Available in 18 languages, Spymac is impacting users around the world by giving them the chance to win large daily and monthly Jackpots. Regionalized versions of Spymac covering 95 percent of the entire online populace are available in English, Arabic, Portuguese, simplified & traditional Chinese, Czech, Italian, French, German, Indonesian, Japanese, Korean, Polish, Russian, Romanian, Lithuanian, Spanish, Turkish and Ukrainian.
Exponential Growth
Leapfrog was launched only weeks ago, and it is growing exponentially as word spreads that uploaders get real money for simply sharing their work on the site.
"Last week, we were getting more than 500 uploads a day, and that number has quickly climbed to more than 1,000 uploads from around the world every 24 hours -- about a new upload every minute of the day," said April.
"Already in the first month, we have individuals making enough money that they can literally quit their day-job and spend all day creating videos and uploading to Spymac," joked Ehlis. "We are paying out between $3,000 to $5,000 a day."
About Spymac
Spymac Network, Inc., with offices in the U.S., Canada and Germany, has more than one million members in over 150 countries, and contains millions of discussion topics, pictures, movies and music. For more information, visit http://www.spymac.com or call 403-317-7795.
###