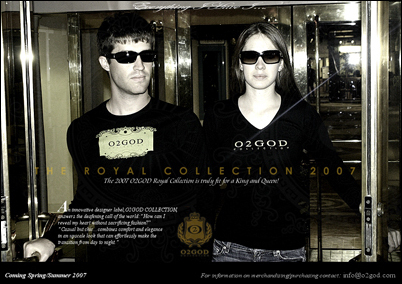 Just stepping out looking and feeling good in the pieces is enough to be grateful to God for
Washington, D.C. (PRWEB) January 31, 2007
The successful fusion of fashion and faith has never been done before; that is until now. A classy and sophisticated clothing line, O2GOD Collection, is blazing a trail in the territory of couture. The line offers a quality product for men and women with a fashion and design element that just can't be found anywhere else.
Created in 1999, O2GOD is releasing an exciting, revitalized line for Spring/Summer 2007. Christened The Royal Collection, it will be available for purchase and merchandising 4 March. The Collection joins the ranks of the most well-known names in upscale fashion with the anxiously awaited line filled with luxurious colors and fabrics, and flattering fits.
Presently based in the D.C. area, O2GOD Collection is the brainchild of CEO Jerome Boatright, of northern Alabama. A long time volunteer, he has spent a great deal of time mentoring youth in churches, juvenile detention centers, and group homes. His goal was to create a clothing line that would spread a message of living every day with focus; wearing a conviction in a way that could become not only a permanent fixture of the wardrobe, but a lifestyle. "Just stepping out looking and feeling good in the pieces is enough to be grateful to God for," says Boatright, and the aim of the Collection is to appeal to one's sense of style as well as their sensibility. Head turning, original designs are sure to attract admiring glances, and even a knowing nod from those who share the same sensibilities.
Building on a foundation of basic black and white, the Collection adds a luscious gold that brings the pieces to life in both fabric and adornment. Featuring unique, bold graphic designs and distinctive embellishments, the pieces are fresh and creative, and are an expression of style and individuality. It's casual but chic, combining comfort and elegance in an upscale look that can effortlessly make the transition from day to night. Contemporary fit, flair, and texture appeals to the fashion conscious, and embodies a timeless style. Currently on the drawing board, the Gold and Signature Labels promise to offer must-have pieces, from intricately detailed polo's, to crisp, characteristic button-downs. The Gold Label will use rich, brilliant fabrics that emulate the sun, while the Signature Label proposes exceptional, refined designs like those found in boutiques. The collection will also expand to include golf wear, children's clothing, and various accessories.
With O2GOD Collection, clothing communicates; you don't just wear a label, but you wear a lifestyle. You walk infused with confidence, and proudly serve as a reminder to others to take pause and give credit where it's due.
The line will be exhibited at the following trade shows: MAGIC, Las Vegas, 13-16 February; Americasmart, Atlanta, 1-4 February; Mercedes Fashion Week, New York, 2-9 February; Chicago Collective, Chicago, 4-6 February. For more information, visit the website at O2GOD.COM, or via email.
###