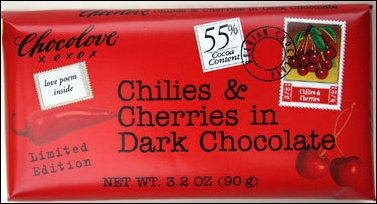 I was inspired by chocolate mole sauce
Boulder, CO (PRWEB) February 2, 2007
Chili Cherry in Dark Chocolate bar, is the newest and hottest flavor made by Chocolove premium chocolate bars. This tasty Valentine is a limited edition and is available exclusively at Whole Foods Markets. Ancho and chipotle chilies supply the heat and dried cherries supply the sweet in a bar of smooth Belgian chocolate that will warm the hearts of many this Valentine's Day.
"There is synergy in the chilies and chocolate that make this bar almost mind altering, perhaps it causes the simultaneous release of endorphins and serotonin. Whatever the reason, it is the most stimulating bar we have made," says Timothy Moley, Chocolove's chocolatier.
Chili Cherry was developed with the passion for romance, chocolate and the perfect taste that are the heart and soul of Chocolove. "I was inspired by chocolate mole sauce," he continues. "Two kinds of chilies give a depth and length of flavor that one chili could not provide," he says. "It is pleasantly warm but not too hot." Chocolove chili cherry is where hot and sweet become a treat.
Chocolove Chilies and Cherries in Dark chocolate is in a red wrapper that looks like a love letter, and like other decadent Chocolove flavors, contains a classic love poem inside. Share it with someone you love, or at least like, and do something hot.
The limited edition Chili Cherry chocolate bar is available exclusively at Whole Foods Markets. The bars are on sale in February, 2 for $4, while supplies last. Additional Chocolove flavors are available nationwide in your grocer's gourmet chocolate selection including Wild Oats, Shaw's, HEB, Ralphs and Target. To find a store near you visit http://www.Chocolove.com or call 888-Chocolove (888-246-2656)
About Chocolove
Chocolove produces eighteen delicious chocolate bars under the brand names Chocolove and Chocolatour. Bars are crafted with premium Belgian chocolate and all natural ingredients at the Chocolove factory in Boulder, CO. Flavors range from a sweet, creamy Milk Chocolate bar with a 33% cocoa content up to an Extra Strong Dark Chocolate bar with an impressively strong yet smooth 77% cocoa content. Independently owned and operated, Chocolove has been the leader in premium chocolate bars since 1995. Visit http://www.chocolove.com for more details.
# # #