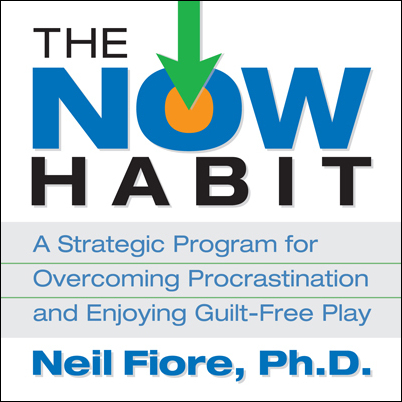 New York City (PRWEB) February 13, 2007
If you are a professional, manager, student, entrepreneur, writer, or homemaker, this audio book will help you achieve your goals more rapidly -- whether they be large, complex challenges or the small, essential tasks of everyday life and work. If you now work effectively even though you have too much to do and too little time, The Now Habit will show you how to prioritize your goals to allow more time for guilt-free play.
Step by step, Neil Fiore, Ph.D. reveals numerous tested strategies for ridding your life of procrastination:
Use the symptoms of procrastination to trigger the cure
Overcome the perfectionism and fear of failure that lie behind procrastination
Benefit from making positive statements about work instead of sabotaging yourself with negative statements
Make your worry work for you
Use the Unschedule time-management techniques
Accomplish more in less time through efficient "flow state" work styles
Assist the procrastinators in your life in overcoming their problems
THE Now Habit promises you the chance to truly enjoy guilt-free recreational time, knowing the work is really behind you.
Neil Fiore, Ph.D., is a licensed psychologist on staff at the University of California, Berkeley, who maintains private counseling, consulting practices and is a personal coach. He is the author of the latest Bestseller Awaken Your Strongest Self.
About the Audiobook:
Title: The Now Habit
Author: Neil Fiore, Ph.D.
Format: 7CD/ 7 ½ hours
Price: $29.98 (US) / $38.98(CAN)
ISBN: 1-59659-076-9
Available: February 2007
Published by Gildan Media Corp. This audio title is available at all fine book retailers, on-line and as a download at iTunes and http://www.audible.com
Also published this month by Gildan Media: Quantum NLP, Listening, Step Up to Success, Living an Empowered Life.
Your coach in a box is a line of personal development audiobooks from Gildan Audio that bring bestselling authors and lecturers directly to you, at the best prices around.
Please visit http://www.gd.simpleology.com for a special offer.
Gildan Audio is a division of Gildan Media Corporation, a multimedia publisher of books, audiobooks and software. Gildan Audio titles are distributed to the trade by Hachette Book Group USA. More about Gildan Media can be found at http://www.GildanMedia.com.
# # #