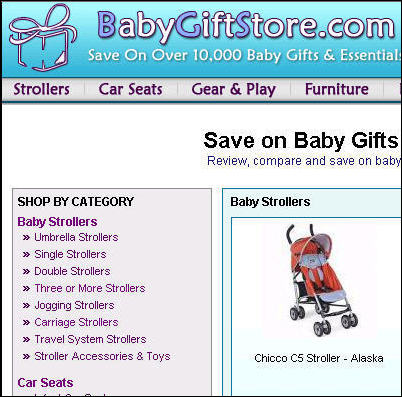 Austin, TX (PRWEB) February 15, 2007
BabyGiftStore.com has all the latest baby gear and gifts - from carriage strollers to wooden highchairs to baby dolls to baby blankets, and beyond! The site allows visitors to choose from over 10,000 baby gift ideas. Almost every item on the site is discounted, some up to 74%.
BabyGiftStore.com caters to savings-savvy parents and baby shower shoppers who realize that the mark-up at retail baby stores is outrageous. Because these stores have a relative monopoly on baby gift purchases as most mothers-to-be register at them, they can charge pretty much whatever they want for their most popular baby items. BabyGiftStore.com gives you access to deeply discounted Internet prices for the very same items.
In addition to being a great resource for savings-conscious shoppers, BabyGiftStore.com also has tons of hard-to-find items that the stores simply do not carry because they are too high-end or too hard to procure. Strollers are difficult for retail baby stores to keep a wide selection of because they are cumbersome to stock and display. There are over 50 types of McLaren 2007 model baby strollers, for example, many more than any retail store would be able to keep in stock! The Silver Cross The Balmoral Carriage stroller retails for $2995.00, so most retail stores do not find it practical to carry. "As the parent of triplets, I couldn't find a stroller anywhere in town," said Pam Jones of Joliet, Illinois, "I found the Triple Tandem Stroller at BabyGiftStore.com and it was exactly what I was looking for. The site even had other triplet stroller models for me to compare."
Another tricky item for retail baby stores to keep in mass quantities is car seats. The average family has 2 car seats for each child (one for each car), and will go through at least 3 car seats as the child ages. For this reason, finding the right car seat at the right price is extremely important. BabyGiftStore.com has car seats from all the major brand names, including Britax baby car seats, Graco car seats, Evenflo car seats, and others. Parents will even find car seat toys and accessories.
BabyGiftStore.com is the perfect place for visitors to find everything they need for their own baby, or to find the perfect gift for a baby shower. With discounts on thousands of baby supplies and gifts, visitors are sure to find exactly what they need at a great price.
About BabyGiftStore.com
BabyGiftStore.com was created by a group of 20-somethings who were frustrated with paying exorbitant retail prices for baby shower gifts. When they realized that a wider selection of products that were often better was available online, the idea for BabyGiftStore.com was born. They found that ordering baby supplies and gifts online not only gave visitors access to a huge selection of baby items, but could also saved them a great deal of money with discount prices.
###