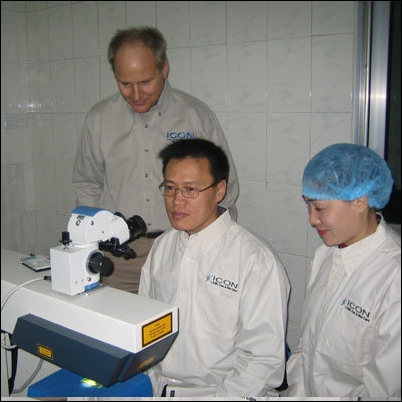 Denver, CO (PRWEB) February 19, 2007
Denver, Colorado LASIK provider, Icon LASIK, is proud to announce the opening of a new Icon LASIK clinic in Lianyungang, People's Republic of China. After three years of planning and preparation, the new clinic in Lianyungang is now performing LASIK eye surgery. The clinic in Lianyungang is Icon LASIK's first LASIK clinic in China.
Icon LASIK's laser eye surgery clinic in Lianyungang is the first of several planned locations in China. The new Lianyungang clinic also represents the first western LASIK center in Lianyungang. Lianyungang is located in Jiangsu province which is roughly in the middle of China's east coast. With a population estimated to be 4.65 million, Lianyungang is the first of several opportunities for the Denver, Colorado based Icon LASIK to introduce its high quality, custom laser vision correction care to Chinese patients.
The rise in disposable income in China's middle class and the lack of LASIK centers in China uniquely position Icon LASIK to capitalize on China's growing demand for laser eye surgery. With several additional locations planned to open before 2008, Icon LASIK is poised to become a premier provider of laser eye surgery services in China.
Already the top Colorado LASIK center, Icon LASIK has performed over 60,000 LASIK and PRK procedures in Denver, Colorado, and has over twenty years of general eye care experience. Utilizing the latest LASIK technology, combined with years of refractive experience Icon LASIK is looking forward to offering the same high level of care in China that it has offered patients in Denver since 1999. In Denver, Icon Icon LASIK features the VISX Star4 Wavefront Laser, the NIDEK EC-5000 eye tracker, and the IntraLase bladeless LASIK system. In China, Icon LASIK offers Zeiss lasers as well as additional laser platforms. With the low cost of LASIK at Icon starting at just $499 per eye and LASIK financing available for 0%, $0 down, and no payments for 12 months, Icon LASIK is the most affordable, safe, and convenient vision correction available whether you are in the U.S. or China.
Icon LASIK would gladly discuss its experience in China including regulatory issues and marketing concerns with those in media, business, and academia. For more information about Icon LASIK's experience opening its laser vision correction clinic in China or for general corporate information please contact Richard Anderson, O.D. at 720-524-1001. Icon LASIK is a privately held company.
Icon LASIK is a trademark of the Eye Academy of America, Ltd. IntraLase is a registered trademark of IntraLase Corp. IntraLase FS, IntraLase Method, IntraLase-Enabled Keratoplasty and IEK are trademarks of IntraLase Corp. VISX and Star S4 are trademarks of VISX incorporated. Carl Zeiss is a trademark of Carl Zeiss Meditec AG. NIDEK is a trademark of NIDEK Incorporated. Denver LASIK & Colorado LASIK vision correction, located at 3900 East Mexico, Suite 102, Denver, CO 80210 just off I-25 and Colorado blvd. We are just a few miles from downtown Denver, the Denver Tech Center, Cherry Creek, and approximately 30 minutes from Boulder and an hour from Ft. Collins, Greeley, and Colorado Springs.
Richard Anderson, O.D.
Tel: 720-524-1001
Fax: 720-524-1121
###