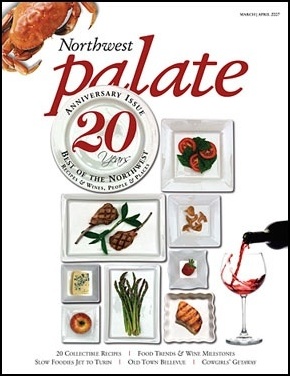 Nothing like this has ever been published before
Portland, Ore. (PRWEB) February 28, 2007
Northwest Palate, the only international magazine covering the epicurean lifestyle of the Pacific Northwest, celebrates its 20th anniversary by giving consumers a unique "20 Years in 20 Pages" retrospective of "The Best of Northwest Recipes and Wines, People and Places."
The special section, available in Northwest Palate's March/April, 2007 issue, on newsstands after March 1, offers food and wine lovers the magazine's pick of the best Northwest recipes from the best Northwest chefs that they've published over the last 20 years. In addition, a timeline highlighting the region 's food and wine milestones over the period helps readers follow the phenomenal growth of the epicurean lifestyle in Washington, Oregon, British Columbia, and Idaho (http://www.nwpalate.com).
"Nothing like this has ever been published before," said Northwest Palate's co-publisher Cole Danehower. "For 20 years Northwest Palate has been the only magazine to chronicle the growth of the food and wine culture in the Pacific Northwest. From that unique perspective we've distilled 20 years' worth of coverage into 20 pages of powerful print--20 more pages than our normal issue."
It was 1987 when founder and co-publisher Cameron Nagel began Northwest Palate. The Northwest's food and wine culture was very young, but Nagel knew it had a great future. "Twenty years later the Pacific Northwest is famous for its wine quality and culinary resources," said Nagel. "We wanted to mark our anniversary by sharing our favorite recipes, plus an entertaining and informative timeline of milestones in the Northwest's culinary culture."
Recipes reprinted in the "20 Years in 20 Pages" section span the Pacific Northwest from Oregon to British Columbia, and showcase local chefs using local ingredients. Examples include "Cherry-Almond Scones" from Seattle chef Tom Douglas, "Herb-Crusted Duck" from Portland chef Vitaly Paley, and "Aquarium Soup" from Frank Von Zuben, chef at Sooke Harbor House on Vancouver Island, British Columbia.
"Selecting our favorites wasn't easy," said Angie Jabine, Editor of Northwest Palate. "There were so many great recipes and chefs and restaurants to choose from, making our final selection was incredibly difficult--but I know readers will love making these dishes!"
In addition to the anniversary retrospective, the March-April issue contains a regular complement of content, including a feature on Pacific Northwest attendees at the Slow Food Terra Madre conference in Italy, a report on spirits distilling in British Columbia, and a look at what makes Oregon's Brooks winery one of the best wine stories in the nation.
About Northwest Palate
Launched in 1987, Northwest Palate helps readers explore, experience, and enjoy the Northwest Epicurean Lifestyle. Covering food, wine, and culinary travel of Washington, Oregon, British Columbia, and Idaho, Northwest Palate is published six times a year, with a readership of 45,000, and is the leading publication in its market. Content includes feature stories on regional culinary ingredients, artisans and destinations, plus wine reviews and profiles of restaurants, chefs, farmers, winemakers, culinary events, and recipes. The US subscription rate is $21 for one year and $39 for two years. Canadian subscriptions are $35CDN per year. For editorial guidelines, contact Angie Jabine, Editor, at 503-224-6039. For marketing and advertising information, contact Cole Danehower, Co-Publisher, at 503-224-6039 or 503-753-8061, or by email at cole@nwpalate.com. Visit Northwest Palate magazine at http://www.nwpalate.com.
###