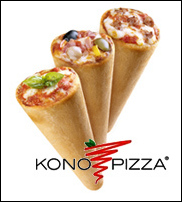 Padova, Italy (PRWEB) March 1, 2007
Konopizza, an international pizza brand, is now looking for master franchise partners worldwide. Konopizza is offering franchising opportunities including all the right tools to manage a successful business. From technical support to operative assistance, Konopizza offers effective support for people who want to develop a successful business, even without practical experience.
Konopizza is absolutely original because for the first time it offers the opportunity to taste a very good pizza walking instead of sitting. Konopizza is home of the original pizza cone and is a major competitor in the pizza franchise industry. Konopizza is easily managed and can exploit the whole potential of the pizza market, the real symbol of made in Italy, well known and appreciated all over the world.
Master franchise partners will have the opportunity to own and operate their own shops from a range of various concepts including cafés, shops, kiosks and corners. Konopizza will provide all the necessary tools to organize and improve the development of this huge business including operative manuals, development of dedicated recipes and new products, training, management assistance, and logistic support.
Konopizza is becoming a worldwide known brand, thanks to its international fast development and success; it has partners in Spain, Germany, Russia, United Kingdom, Kuwait, Middle East, Australia and Indonesia, just to mention a few.
Recent openings include Japan (Aug. 2006), Korea (Nov. 2006) and Saudi Arabia (Feb. 2007).
Those interested in becoming a national or regional partner should visit the Konopizza Master Franchise webpage at http://www.eurorunner.com/konopizza
Contact Info:
Valentina Bosco
+39 051 58 716 76
http://www.eurorunner.com/konopizza
###