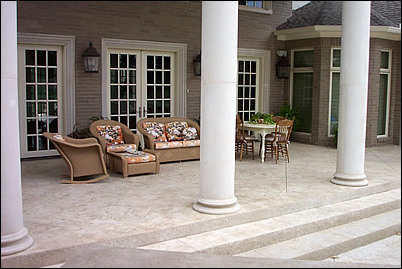 Back yards are being transformed into luxurious extensions of the house
Yucaipa, CA (PRWEB) March 1, 2007
This year, Americans across the country will be spending more time outdoors, entertaining guests in their back yards. The Concrete Network, the largest and most comprehensive source for concrete information, offers homeowners a one-stop-shop for all aspects concerning concrete patios. From design ideas and photos, to decorative options and finding a local contractor, homeowners are able to find everything needed to create the perfect back yard retreat.
"Back yards are being transformed into luxurious extensions of the house," says Jim Peterson, President of The Concrete Network. "They're the new favorite room to relax, entertain, and cook. And the heart and soul of the back yard resort area is the concrete patio."
Today's concrete patio is as unique as its owners. Modern stamping, texture and coloring techniques complement any landscape and provide a touch of individuality to the back yard. Across the country, companies that specialize in concrete patios are seeing an enormous increase in elaborate outdoor living spaces -- all kinds of hardscaping and landscaping projects, including decorative concrete, is quickly emerging as the new material of choice for today's patio.
Another appealing benefit of a concrete patio is that because they can be created with a variety of different decorative techniques, it is the perfect choice for blending into your backyard environment, whether you have a modest-sized patio and barbecue area, or you have a sprawling, luxurious outdoor retreat spilling over with amenities. Combining concrete with other materials, like brick, tile, or flagstone, is also popular. And wood, steel, or copper dividers can be used as control joints to help prevent cracking.
Established in 1999, The Concrete Network's purpose is to educate consumers, builders, and contractors on popular decorative techniques and applications including stamped concrete, stained concrete floors, concrete countertops, polished concrete, and much more. Over 872,000 visitors researched The Concrete Network Web site in June, 2006.
The site excels at connecting buyers with local contractors in their area through its Find-A-Contractor service. The service provides visitors with a list of decorative concrete contractors throughout the U.S. and Canada, and is fully searchable by 22 types of decorative concrete work and 199 metropolitan areas throughout North America.
Photos courtesy of Ozark Patterned Concrete Inc.
###