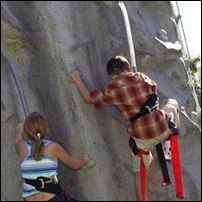 We have seen a huge growth in demand for climbing walls, since people are experiencing fitness boredom in the gyms
Newcastle, CA (PRWEB) March 1, 2007
With morbid obesity becoming a greater cause for concern for Americans, Extreme Engineering is devoted to curing society's reluctance to exercise by pioneering a fresh, enjoyable way to burn those calories-the use of Rock Climbing Walls.
Extreme Engineering is the industry leader in Climbing Walls and adventure products. The organization's commitment to reaching the far corners of the globe has translated into Extreme Engineering being globally recognized as the primary supplier in Portable Climbing Walls and extreme, interactive fun. Health-conscious people are sure to be able to find something that suite their tastes and athletic ability, with Extreme Engineering's wide variety of stationary climbing walls, portable climbing walls, Climbing Harnesses, and other exciting adventure products.
Extreme Engineering's most up-to-date introduction is that of the Spider Zone, which consists of five interwoven, vibrant rubber layers. Each respective layer presents absolute independence for children to investigate, crawl, and climb, and has proven to be a great product to develop motor skills at such a crucial age. Spider Zones are just the thing for the parks and camps because no trained staff is necessary, only adult supervision. Extreme Engineering's Spider Zones are designed from the maximum quality materials obtainable, and are made to withstand the harshest circumstances.
With over a thousand customers internationally, Extreme Engineering has more than its fair share of satisfied customers who are willing to attest to their excellent products and services. Some of Extreme Engineering's past-and returning-customers are large, customer-service oriented groups, such as fitness centers, family entertainment centers, parks, as well as many accredited universities. Thus, Extreme Engineering's products have not only withstood the test of time, but also endurance.
Not all of Extreme Engineering's customers are large companies, however. A large percentage of the organization's clientèle consists of the average American, looking for a fun way to work out because they are tired of typical trips to the gym. "We have seen a huge growth in demand for climbing walls, since people are experiencing fitness boredom in the gyms," said Philip Wilson VP of the world's largest manufacture of climbing walls ExtreemeEngineering.com
Please feel free to browse Extreme Engineering's products at http://extremeengineering.com. If you have any questions regarding any of their products of services, Extreme Engineering can be reached at the telephone number 1-916-663-1560, or by filling out the contact request form at http://www.extremeengineering.com/contact_request.html.
###