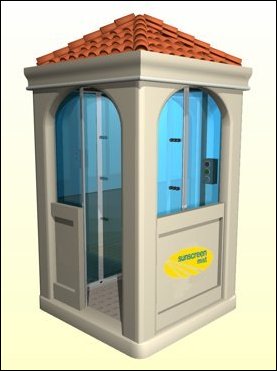 This will take sun protection to the next level for vacationers on the Southern European coast
London, UK (PRWEB) March 5, 2007
Spraynlay, Ltd., headed by Daniel Moosah, has obtained exclusive distribution rights for the patent-pending Sun Treatment Center in Greece, Spain, France, and Monaco. He joins a rapidly growing number of exclusive distributors in the United States.
According to Jordan Lichman, President of Sunscreen Mist, "the strong demand for Sunscreen Mist's products in the United States will certainly translate well to the unbelievably wide range of hotels, resorts, and other outdoor venues in Greece, Spain, France and Monaco."
Daniel Moosah is a UK-based Entrepreneur, who has a reputation as an expert marketeer in both the hotel and leisure industries. He has built a 'boutique' business based in London where he effectively markets cutting-edge products to major international corporations. Mr. Moosah's in depth knowledge, coupled with his established network in the travel industry has allowed him to forge links with many investment companies, travel associations, and hotel and leisure groups. He is uniquely positioned to be a brand ambassador for Sunscreen Mist throughout Europe.
Daniel qualified in the hospitality industry and has been involved in real estate and start-up companies for several years. Mr. Moosah stated, "I am extremely excited to be working with Sunscreen Mist and that together we will be able to bring such an innovatory, revolutionary and important product to the European market."
The resort areas of Greece, France and Spain have over 220 sunny, warm days in which to offer this automated vending spray-on sunscreen technology. Hospitality properties that operate a Sunscreen Mist Booth could easily gross €40,000 to €100,000 per year, depending on the size of the property, in poolside or beachside areas that currently generate little or no revenue.
The income opportunities for hotels and resorts are only equaled by the user response. "This will take sun protection to the next level for vacationers on the Southern European coast," added Lichman. The Sunscreen Mist Booth replaces the bulky cans, messy tubes, and missed spots associated with traditional sunscreens with a 15 second, silent spray of Medium or High SPF sunscreens, Tan Accelerator, or Cooling Aloe Mist. Sunscreen Mist quickly applies an even coat, head-to-toe, of two ounces of water-proof sunscreen (twice the amount recommended by the U.S. Food and Drug Administration). The Tan Accelerator appeals to adults who are looking for a rich tan in less time. Sunscreen Mist exclusively uses Allevea, Spa Collection, natural suncare products by Norvell. The spray sunscreen booth is easy enough for children to use and all formulas are tears-free and non-staining. Payment is achieved through a wireless vending unit which accepts currency, credit/debit cards, and even custom printed coupons.
Sunscreen Mist is proud to be an exhibitor at the HotelWorld Expo, Las Vegas, from September 18-20, 2007. To contact Spraynlay, Ltd. for opportunities in France, Spain, Greece or Monaco call 00 44 207 586 1651. For more information on sales or distribution of this amazing vending technology, visit http://www.sunscreenmist.com or call (888) 8-SUNMIST.
###