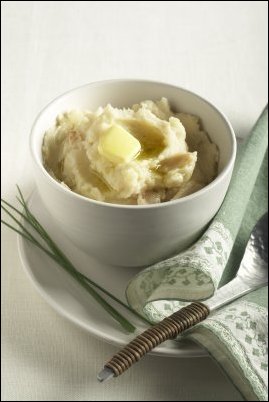 Wilmette, IL (PRWEB) March 1, 2007
There is no traditional St. Patrick's Day fare in Ireland, contrary to popular belief, says the Irish Dairy Board, a Dublin, Ireland-based cooperative of small dairy farmers producing cheese and butter that is exported around the world. In fact, any foods from Ireland are appropriate for a celebration, the Board explains.
One easy choice is a platter of cheese from Ireland. Dairy cows, milk and butter have been part of Irish society for thousands of years, according to the Cork Butter Museum in Cork City, Ireland. Dairy products from Ireland are made with milk from grass-fed cows. The Irish climate, with its high rainfall and temperate conditions, is conducive to growing lush grass rich in beta-carotene, which turns butter and cheeses a natural gold color.
To be authentic, an Irish cheese platter should include some toasted nuts, dried or fresh fruit, and chutney. Add a selection of cheeses from Ireland, such as Kerrygold Dubliner, a Cheddar cheese with a Parmesan-like bite; Blarney Castle, reminiscent of a young Gouda; Ivernia, an Italian-type hard cheese aged for three years to bring out complex flavors; and Aged Cheddar. Many of these cheeses are sold conveniently in the supermarket. Serve with Irish stout or wine. It's that simple.
Or make champ, the classic Irish mashed potato dish with green onions and plenty of butter. In Ireland, a new generation of chefs is updating classic fare. Here's a version that adds roasted garlic and chives, finishing with truffle oil. But don't skip the Irish butter – it's essential for creamy goodness.
Serve this champ with roast chicken, beef or pork for a perfect St. Patrick's Day feast, but no corned beef and cabbage, please.
Roasted Garlic Champ with Truffle Oil and Irish Butter
1 garlic bulb (about 3 ounces)
2 pounds russet potatoes, peeled and cut into 1-inch chunks
1 cup whole milk
Salt and pepper
4 tablespoons Kerrygold Pure Irish Butter
8 teaspoons truffle oil
4 teaspoons minced fresh chives
Heat oven to 400º F. Cut top of the garlic bulb 1 inch to expose cloves. Wrap in foil, place in baking pan and bake until soft, about 45 minutes. Squeeze garlic from skins. Meanwhile, in large saucepan over high heat, bring 1 quart water to boil. Add potatoes, cover and return to boil. Reduce heat to medium-high and simmer until potatoes are very tender, about 10 minutes. Drain potatoes and return to pan. Microwave milk until steaming, about 1 minute. Pour over potatoes, add garlic and mash with potato masher. Season with salt and pepper. Spoon into four bowls. Make a well in the middle of each serving and fill with 1 tablespoon butter. Drizzle each with 2 teaspoons truffle oil and sprinkle with 1 teaspoon chives. Makes 4 servings.
For more recipes and tips, visit http://www.kerrygold.com/usa.
About The Irish Dairy Board
The Irish Dairy Board, headquartered in Dublin, Ireland, a cooperative of dairy farmers, is a major exporter of cheese, butter and other Irish dairy products worldwide. The Board's American headquarters is located in Wilmette, Illinois.
Contacts:
Sandy Hu
415-626-1765
sandy-at-sandyhufm.com
Molly O'Loughlin
847-256-8289, ext. 207
moloughlin-at-idbusa.com
kerrygold-at-idbusa.com
###