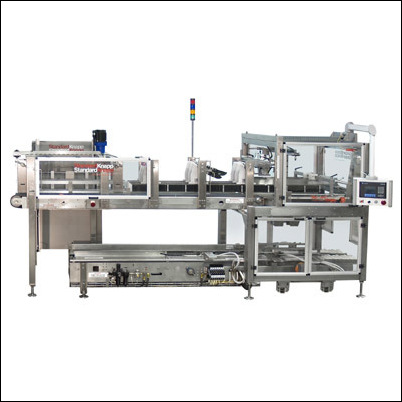 Portland, CT (PRWEB) March 1, 2007
Standard-Knapp, a worldwide leader in the manufacture of innovative packaging machinery, introduces the Versatron Active Product Transport (APT) case packer for packaging applications in a variety of industries. Especially designed for high-speed case packing of non-round containers, the Versatron APT excels at packing reverse tapered, locking shape, and personal-care containers, trigger and unstable bottles, flasks and other containers that are traditionally difficult to handle.
Powered by a high-speed servo motor, the Versatron's state-of-the-art APT case packaging technology pulls products into the packing area, eliminating line pressure and avoiding jams. The case packer is equipped with a unique beaded lane guide to eliminate friction as containers are carried along the conveyor belt. The Versatron APT case packer's "soft catch" feature gently "catches" each container to ensure that each package is filled without damage, allowing for maximum productivity and reduction in machine downtime.
Providing a robust, low-maintenance packing solution, the Versatron APT Case Packer is ideal for containers ranging from 4 oz. to 128 oz. and a variety of case types. Available in non-indexing and indexing case feed, the Versatron APT Case Packer runs at speeds up to 75 CPM, with a maximum of eight lanes operating simultaneously.
About Standard-Knapp Packaging Machinery
Standard-Knapp offers 24 hour customer service assistance as well as extensive machine training programs for the Versatron APT Case Packer. In addition to state-of-the art case packing machinery, Standard-Knapp offers tray packing, shrink wrapping, and bottle packing solutions. For more information on Standard-Knapp's products, visit http://www.standard-knapp.com, call 860-342-1100 or email info-at-standard-knapp.com.
###