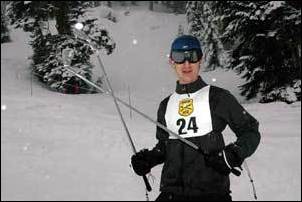 We're really excited about 2007
Bend, OR (PRWEB) March 2, 2007
Organizers of the Race and Ace, a single day biathlon where competitors ski or snowboard a dual giant slalom course in the morning and golf 18 holes in the afternoon, has announced two northwest dates for 2007. The event series takes advantage of the northwest's unique weather, which allows for excellent skiing and golf in the month of May. The series includes three divisions of competition: elite individual, two-person teams, and four-person teams.
On Saturday, May 5th, Race and Ace returns to Central Oregon for its fifth annual event. Competitors will race two timed dual giant slalom runs at the northwest's largest mountain, Mt. Bachelor. Participants will then head down the mountain for 18 holes of golf on Sunriver Resort's picturesque Meadows course designed by John Fought. The Oregon event is an annual sellout, so skiers and golfers interested in competing should sign up early at http://www.raceandace.com. Early registration pricing is just $229 prior to April 9th, then $249 until registration closes on April 30th.
Idaho's Tamarack Resort will host its second annual Race and Ace event on Saturday, May 19th. Tamarack Resort, the first all-season resort to be permitted in the U.S. in more than 25 years, has received national attention for having not one, but three spectacular crown jewels: a world-class ski mountain, a Robert Trent Jones II signature golf course and beautiful Lake Cascade. Competitors will race two timed runs on Tamarack Mountain's dual giant slalom course, then play 18 holes at Osprey Meadows, which was recently named America's best new public course for 2006 by Golf Digest and was a top 10 pick by Golf Magazine. Interested skiers and golfers can register online at http://www.raceandace.com. Early registration pricing is just $179 prior to April 23th, then $199 until registration closes on May 14th.
"We're really excited about 2007," said Race and Ace founder and president Doug Fish. "We are introducing several improvements, including a re-vamped scoring system that allows us to better combine ski and golf scores, better prizes from sponsors like Cleveland Golf, Never Compromise, FIDRA, Deschutes Brewery, Gleukos energy drinks, and Pride Sports golf accessories. Our goal is to produce the finest skiing and golf competition in North America. It's these fine companies along with world-class facilities that help us deliver that promise."
The Race and Ace website is also new and improved. Features include online registration, downloadable event schedules, web streaming clips of last year's Race and Ace TV shows, a photo gallery and exclusive lodging discounts at resort partners.
The 2007 Race and Ace TV show will consist of two half hour programs, one for each event. In addition to local coverage, the shows will air on Fox Sports Northwest in Oregon, Washington, Idaho, Montana and Alaska reaching over 4 million households and on the Resort Sports Network (RSN), which airs coast-to-coast in 90 resort markets. The 2006 Race and Ace TV show will air on March 25th on Fox Sports Northwest.
The Race and Ace entry fee includes lift ticket, greens fees, a Friday evening pre-event registration and cocktail reception, participant gift bag that includes apparel, golf accessories, and more, an awards dinner following the competition, and prizes for the top finishers in each division. For online registration or additional information, please visit http://www.raceandace.com.
The Race and Ace is produced by Fish Marketing of Lake Oswego, Oregon. Web: http://www.fish-marketing.com | Phone: 503-635-0007
# # #