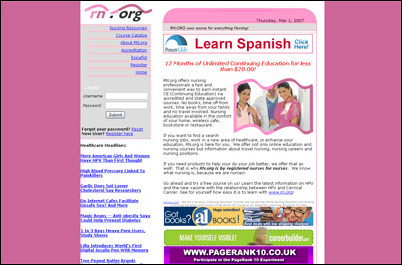 Nursing education available in the comfort of your home, wireless café, bookstore or restaurant.
Pompano Beach, FL (PRWEB) March 2, 2007
Nursing staff shortages across the U.S. and Canada have made it increasingly difficult for nurses to take time away from their shifts to physically attend continuing education for nursing courses. To help nurses keep their knowledge and credentials current, RN.ORG, Inc. announces the launch of its website to provide convenient, accredited, and cost-efficient online nursing continuing education courses.
Online nursing continuing education provider options have increased with the proliferation of reasonably priced broadband internet connections. Nurse professionals have been quick to embrace the continuing education for nursing online venue provided through resources like RN.org because of the sheer convenience and flexibility that these time-saving options deliver. Coursework can be completed any time of the day or night, and certification can be accessed immediately upon successful test completion.
Larry Snyder, Founder and President of RN.ORG, Inc. and a Registered Nurse himself, describes the convenience of RN.org as, "Nursing education available in the comfort of your home, wireless café, bookstore or restaurant." Snyder continues, "No books, time off from work, time away from your family and no travel involved," referring to other key benefits of studying through an online nursing continuing education provider.
Nurses aren't the only ones embracing online nursing education options. Hospitals and professional medical organizations praise the up-to-date, dynamic nature of courses provided through online nursing continuing education provider sites. Nursing continuing education online courses cover the most recent medical information and adopted innovations, and are not subject to the lag times and expense associated with physical classroom instruction. Additionally, continuing education for nursing provided through online resources allows access to a much broader menu of specific subject areas than can be offered through individual brick and mortar institutions. This is especially beneficial to nurses practicing in areas of the country which are far removed from instructional facilities.
State licensing boards accept online nursing education coursework toward the renewal of nursing licenses, provided that the nursing continuing education provider and coursework are accredited. Most states also allow all continuing education hours required for license renewal to be met through home study.
To find additional information about available online courses which support requirements for continuing education for nursing and healthcare professionals, please visit RN.org.
About RN.ORG, Inc.:
Founder and President, Larry Snyder, RN, combines more than 15 years of experience as a health care professional with 20 years of IT management expertise to launch RN.org. His vision is to provide healthcare professionals with a user-friendly, convenient, comfortable and no stress method of maintaining their professional licenses.
# # #