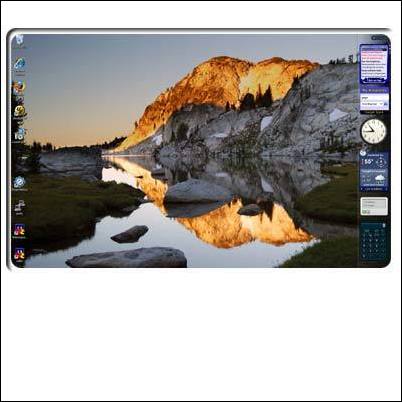 Microsoft aims to sell 200 million copies to businesses and consumers worldwide in Vista's first two years
Kissimmee, FL (PRWEB) March 5, 2007
Windows Vista's gadgets are hot and the team from Gadget Spark is fanning the flames for the recent, "I've got gadgets" movement. Gadget Spark is a group of seasoned developers that is currently developing and marketing personalized applications that can be placed on the new Windows Vista side bar. Their target market is primarily Internet marketers, although businesses of all kinds and home users will surely benefit.
The Microsoft Windows Sidebar is a new feature of Windows Vista that enables the use of gadgets. Gadgets are cool little mini-applications, which allow users fast access to information from applications, the Internet, and utilities. Users are allowed to configure these gadgets on their sidebar and desktop according to a user's personalized preferences. The sidebar comes turned on by default on most new computers being shipped now, and allows for extremely easy sidebar gadget installation by users from the Windows Live Gallery website.
In addition, these mini-applications can connect to web services to deliver business data, weather information, news updates, traffic maps, Internet radio streams, stock tickers and even slide shows. Gadgets can also integrate with other programs to provide streamlined interaction. For example, a gadget can give you an at-a-glance view of all your online instant messaging contacts, the day view from your calendar, or an easy way to control your media player. Gadgets can also have any number of dedicated purposes. They can be calculators, games, sticky notes, and more. People want gadgets on their new Windows Vista side bar because they are convenient and fun.
Microsoft Vista's sales projections
Microsoft expects to sell between 80 and 120 million copies of Vista in its first year alone, according to the editor at Extreme Tech. He states, "Even if the Microsoft's estimates are way off, it's clear that at least tens of millions of users will start up their PCs sometime next year and stare at a few gadgets in Vista's sidebar, which is enabled by default."
The feature is one of many eye-popping graphics in Microsoft's first major upgrade to the Windows operating system in more than five years. "Microsoft aims to sell 200 million copies to businesses and consumers worldwide in Vista's first two years," reported John Swartz, tech news columnist at USA Today.
What gadgets can do for companies and marketers
Given the popularity of gadgets, it goes without saying that gadgets will be an enormous asset to marketers in the very near future. William Cross from Gadget Spark said that "If a business only reaches a small percentage of the projected number of Vista side bar desktops in the next few years, it can be absolutely huge for their business.
Blogging and social networks - People can add gadgets to their own space on a social network such as MySpace and FaceBook. It only requires one person to add it to their space for your personal space to become virally popular.
Branding - Company's can have their brand or logo displayed on literally millions of computer desktops over the coming months. One click in their Windows Vista side bar takes them to your Website's products or services.
Affiliate Marketers - can create a mini-application such as a specialized clock, custom calculator, search tool, or anything else that has relevence to the sponsor the marketer is promoting. Gadget Spark can make a gadget that does it and at the same time use affiliate codes to make sure the marketer gets credit for any sales made from the gadget.
Gadget Spark was created for the sole purpose of creating exciting and vibrant multimedia as a powerful enrichment tool for other companies and marketers. "Our ultimate goal is to get our clients on everyone's desktop before the market becomes saturated", says Cross. Gadget Spark intends to enable their clients to make money from their linked gadget applications and closer relationships with the end users online. For more information contact Gadget Spark at http://www.gadgetspark.com
Citations:
1. Extreme Tech. Editor. Vista Gadgets and Yahoo Widgets, (10-12-2006).
http://www.extremetech.com/article2/0,1697,2028648,00.asp
2. USA Today. Jon Swartz. Microsoft launches first operating system in five years with Vista,
(11-30-06).
http://www.usatoday.com/tech/products/2006-11-29-vista-rollout_x.htm
3. Windows Vista is a registered trademark of the microsoft corporation.
###