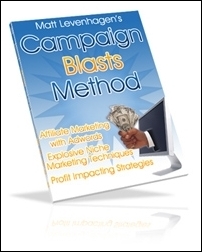 Milwaukee, WI (PRWEB) March 6, 2007
Those seeking to learn how to break into the business of Affiliate Marketing using Google Adwords now only need to turn to one source. Matt Levenhagen's Adwords & Affiliate Marketing Guide covers every topic for the beginner to the more advanced marketer. And the membership area provides on going education and instruction for the individual that needs it.
The content in this guide has literally doubled with the new version to over 160 pages of pure methods, techniques and other important information to learn and excel in the business.
It is reformatted to make it easier to read. The content that was in the previous guide has been reworked and in many cases rewritten incorporating the freshest, up to date material on the subject.
To make learning Matt's Adwords and affiliate marketing system easier the material has been broken into 4 large sections:

Blasting Orientation
Markets, Merchants & Keywords
Putting it All Together & Launching
Expansion & Some Loose Ends
They will learn everything about the Affiliate Marketing business as Matt takes them step by step through his system. His readers, members and clients don't only learn how to market, but also how to approach affiliate marketing like a business.
This new version gets more in depth with the marketing principles behind his method. He is not only showing the steps and strategy, but he explains the "why" behind the method. The reader is going to go away from this with some real marketing education.
For example, after the reader is done reading the guide, they will know exactly what part of the 'Consumer Decision Process' that the method focuses on and why it's so important.
And then of course, you have the handling of all the skills and other things you need to know if you are going to stand a chance living up to Google's expectations. You learn about the Quality Score, Landing Pages and how to construct your campaigns to satisfy Google's guidelines and to have optimum positions in the rankings.
Matt's Affiliate Marketing with Adwords Guide is fully revised, expanded and ready to help those interested get the best education and training in the industry.
For more information about Matt Levenhagen's system please visit CampaignBlasts.com. Also receive free news, tips, advice and reviews from Matt on a monthly basis by signing up for his free Adwords & Affiliate Marketing E-Zine.
###