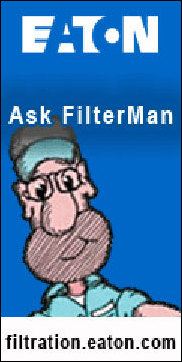 American manufacturing is the engine of our economy
Portage, MI (PRWEB) March 6, 2007
The new Ethanol Filter by Eaton Corporation is getting a lot of attention. Why? Because it is quickly becoming the filter of choice among Ethanol producers due to its ability to increase capacity of fermentation tanks while enabling the obsolescence of cyclones and evaporators. Plus, this innovative self cleaning filter can help you increase ROI by decreasing caustic consumption. From small operations to large, it's clear that Eaton's self cleaning DCF filter is taking the Ethanol market by storm.
Ken Rayment of Better Process Podcasts interviewed Eaton's Senior Analyst, Habib Diallo, about the Ethanol market and what their new filter brings to the table.
"I see several Ethanol Market Challenges" says Diallo.
"Unsustainable level of capital spending to build new plants for an energy source that is still inferior to gasoline.
Measuring medium to long term effect of irrigation, pesticides and fertilizers on the nation's water supplies..."
Click on the Podcast link to hear the rest of the interview: Ethanol Filtration Podcast
http://www.podcasternews.com/programs/87/better-process-podcast/2831/interview-with-habib-diallo-of-ronningen-petter/
(click on "download show" link located on top right side -- interview is less than five minutes).
While you're at it download Eaton's presentation titled --
From Farm to Fermentation:
Ethanol Production Process and Filtration Opportunities for Improving Caustic Retention.
http://www.ronningen-petter.com/images/Ethanol-Process-Tour.pps.ppt
This presentation outlines Ethanol Production, and gives a behind the scenes view of the new Eaton ethanol filter and how it works within the Clean In Place (CIP) Loop. Shown is how significant operational improvements can include:
1. Increased capacity for fermentation tanks.
2. How cyclones and evaporation can become obsolete.
If you would like to discuss this filtration solution with one of our Ethanol experts, please contact us at http://www.Ronningen-Petter.com/ContactUs/Contact-Us-Ethanol.asp.
For more information on how we can help you with your filtration challenges, visit Ronningen-Petter (Eaton Corporation) today at http://www.ronningen-petter.com/Index-Podcast.asp.
Blog:
http://groups.google.com/group/AskFilterMan.
Websites:
http://www.filtration.eaton.com
http://www.ronningen-petter.com
SWICKI:
http://ask-filter-man-swicki.eurekster.com/
Tags:
StumbleUpon http://www.stumbleupon.com/
del.icio.us http://del.icio.us/
Furl http://www.furl.net
Where in the World is Ask Filter Man?
http://www.ronningen-petter.com/Where-In-The-World-Is-Ask-Filter-Man.asp
About Eaton Filtration
A global leader in liquid filtration systems, Eaton's wide range of filtration equipment for industrial and commercial applications is designed to ensure our customers remain productive, safe and profitable.
In today's competitive market, it's more important than ever to find better and more productive ways of doing business. That's why Eaton customers worldwide depend on us for all their industrial filtration needs. From mechanically cleaned, magnetically coupled and backwashing filters to pipeline strainers, bag filters and gas/liquid separators -- Eaton -- Eaton has customized solutions to help improve your manufacturing process. http://www.filtration.eaton.com/.
About Better Process Podcast
The Better Process Podcast is the brainchild of Ken Rayment. "American manufacturing is the engine of our economy," says Rayment. "As a Six Sigma Black Belt working in industry, I got tired of hearing only bad news about American manufacturing. I launched the Better Process Podcast to share the success stories and be the voice manufacturing firms. http://www.podcasternews.com/programs/87/better-process-podcast/.
By Ask Filter Man
###