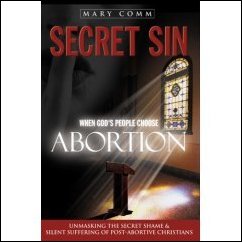 Loveland, CO (PRWEB) March 6, 2007
One in three women will have an abortion by the age of 45, and half of those will have a second abortion. Despite the church's view on this controversial topic, more than 70 percent of these women consider themselves religious or Christian.
In her ministry work, author Mary Comm has learned there are few places for people to turn in the Christian community following the trauma of having or participating in an abortion, leaving them vulnerable and susceptible to depression, shame, addiction and other negative coping mechanisms now recognized as post-abortion syndrome (PAS). In her book Secret Sin: When God's People Choose Abortion (Morgan James Publishing, March 2007), Comm gives other Christians the knowledge, understanding and compassion necessary to help those who have suffered from the shame of past abortions.
Comm describes how many women feel trapped and pressured into their abortion and need to view the church as a safe haven to discuss their dilemma, but that many Christian women and men will not seek help from Christian friends and their church family after abortions because of the guilt of their sin. Comm encourages pastors and other church leaders to create a safe atmosphere of forgiveness in order to transform the lives of these women. Comm raises awareness of those suffering silently due to past abortions and empowers not only church leaders but the entire congregation to minister Christ's love, forgiveness and reconciliation to the broken hearts and hurting souls in their community and how to create a safe haven for abortion recovery in their church.
Secret Sin was written by a Christian who believes that the millions of walking wounded who suffer the grief from a secret abortion need to forgive themselves and realize that they are not alone and that God still loves them. Comm gives advice to these women and men on how to find peace, but also to those who have the power to reach out and show them God's true love.
"Jesus heals broken hearts and souls of women in need of forgiveness. If we Christians cannot show them the grace and mercy of Jesus then who will?" asks Comm.
Comm reveals:
Why even pro-life women feel forced into abortions
The spiritual, physical and emotional toll of abortion
Who all can be affected by one person's abortion
Why Christians should have compassion for those suffering from past abortions
Mary Comm is the president of In Our Midst Ministries, Inc. a non-profit organization begun in 2004 for the dual purposes of raising awareness in the church regarding those suffering silently due to a past abortion, and equip¬ping churches with the knowledge and information needed to meet these hurting people at the point of their need.
To schedule an interview, for review copies or information on placing an excerpt in your publication, please contact Mary Comm at In Our Midst Ministries, (970) 669-1096.
# # #