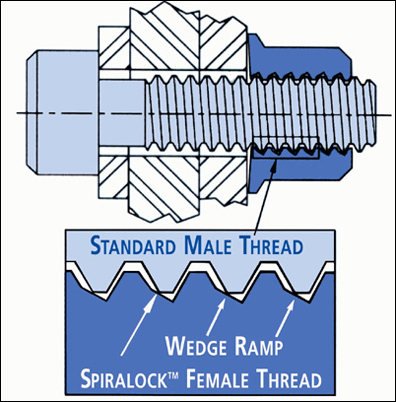 Madison Heights, MI (PRWEB) March 5, 2007
Oshkosh Truck Corporation, a top US manufacturer of heavy-duty military and commercial trucks, prides itself in manufacturing a top quality product that can perform under the most extreme weather and terrain conditions and uses Spiralock's self locking threaded fasteners to help them achieve reliable performance.
The constant shock and vibration that the vehicles are subjected to requires reliable thread locking in the threaded joints. It is critical that axles, frames, and chassis are securely fastened because failure in the field creates serious issues for military personnel due to difficulties with getting and replacing parts. Furthermore, a lack of reliable fastening systems may lead to injury or loss of human life.
On chassis and non-permanent fixtures, Oshkosh engineers were using prevailing torque locknuts and anaerobic compounds (adhesives), which were not very effective in preventing vibration loosening. Additionally, warranty and service costs on the heavy-duty vehicles were rising. These concerns prompted Oshkosh to find a more reliable, cost-effective fastening method.
Oshkosh turned to Madison Heights, Mich.-based Spiralock Corp., designer and manufacturer of innovative technology for self locking threaded fasteners. The secret to Spiralock's thread locking form is a 30º wedge ramp cut at the root of the female thread. Under clamp load, the crests of the threads on any standard bolt are drawn tightly against the wedge ramp. This causes thread contact forces to be applied at approximately 60º from the bolt axis, rather than 30º away as in a standard thread form. The mechanical advantage - the angular relationship between the unique wedge ramp and the male thread - restricts bolt or screw movement.
More importantly, the studies show that the percentage of load on the first engaged thread produced with Spiralock's self locking fasteners is significantly lower. One particular test achieved 18% versus 34%. As a result, Spiralock self locking threaded fasteners eliminate intense concentration at the first engaged thread, thereby reducing bolt failures and improving product performance.
A key benefit of Spiralock's self locking fasteners over conventional locking methods is that the male fastener can be loosened and retightened as many times as necessary without any loss in locking force, thus reducing maintenance costs. The self locking threaded fasteners work with standard male fasteners and eliminates the need for add-on locking components such as lock washers, thread adhesives, crimping or inserts, to name a few.
Spiralock's 30º wedge ramp cut at the root of the female thread also eliminates common stripping or shearing problems because the design distributes the clamp load much more evenly over the threads, which improves safety.
Testing of Spiralock nuts and taps in critical Oshkosh threaded joints resulted in an end to the loosening problems as well as documented cost savings. By eliminating the use of anaerobic compounds from the tapped holes, Oshkosh was able to simplify the assembly process, reduce harm to the environment and employees, and reduce costs associated with the purchase and use of the thread locking compounds. The self locking threaded fasteners eliminated service and warranty issues related to fastened joints as well as provided additional cost savings to Oshkosh.
Spiralock Corporation
Kate Turowska
Phone: (248) 543-7800
Fax: (248) 543-1403
# # #