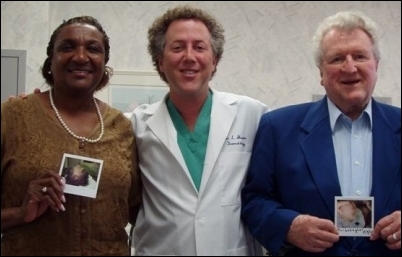 The invention advances the science of hair replacement light-years.
Delray Beach, FL (PRWEB) March 6, 2007
Dr. Lawrence Shapiro of Dr. Shapiro's South Florida Hair Transplant Institute, specializing in hair replacement and located in Delray Beach and Hollywood, Florida, announced yesterday that he has developed a new surgical blade and a related new surgical technique for performing permanent hair transplants in the treatment of hair loss. The new blade allows micro/mini grafts (follicular units of hair) to be placed closer together during a transplant procedure. This results in a more natural hairline for the patient.
"This new blade and technique make it possible to place one-thousand more hair grafts per procedure than in the past," said Shapiro, who has personally performed 10,000 hair replacement surgeries in the last 18 years. "The invention advances the science of hair replacement light-years."
During hair transplant surgery, follicles are removed from an area of the head where hair is prevalent and inserted into incisions made in bald or thinning areas of the scalp. In the early days of hair replacement science, this often produced unnatural and unwanted results.
"The patient would walk away with hair plugs or doll-head hair, with clusters of rooted hair inserted into little holes," Shapiro said. "Modern technology has made it possible to insert far fewer follicles per graft and to place them in tiny slits instead of holes. This causes the transplanted hair to resemble the growth of natural hair more closely."
According to Shapiro, the technique and blade he has developed and tested over the past three years move the science miles forward in the same progressive direction. "Now it is possible to separate and transplant up to 4,000 follicles during a 3-to-5-hour session," he said. "This discovery allows hair to be transplanted in individual units and units of two or three, instead of large unnatural-looking clusters."
Dr. Shapiro believes it should be industry policy for physicians to allow prospective patients to personally view a transplant surgery and to meet and talk with satisfied clients before deciding whether or not to have hair replacement.
"Such a policy would allow patients to determine in advance if the doctor is skilled in state-of-the-art technology," he said. "That would result in far fewer heartbreaks and disappointments after the surgery is performed."
For a no-charge consultation with Dr. Larry Shapiro, call 1-800-799-4247, or visit his clinic's website at http://www.drshapiroshairinstitute.com.
# # #