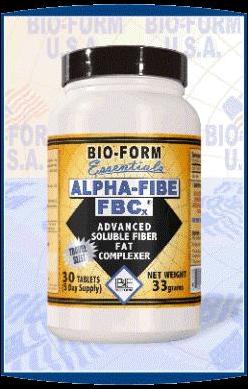 FBCx is the first new and effective approach to weight loss and management
Irvington, NJ (PRWEB) March 6, 2007
Co-inventors Drs. Artiss and Jen, with the makers of FBCx, ArtJen Complexus Holdings Corp. of Windsor, Ontario Canada, are pleased to announce that they have reached an agreement for the USA and Canadian markets, with Archon Vitamin Corp. and Bio-Form Essentials USA to manufacture and market their unique and patented weight loss solution under the label name: Alpha-Fibe FBCx.
FBCx is an all natural fiber derived from corn that has the unique ability to bind 9 times its own weight in dietary fat. Typical results are weight loss of 1 to 1.5 pounds per week and significant decreases in blood fat levels within 4-6 weeks. When taken as directed, FBCx supports gradual healthy weight loss and lower LDL (bad) cholesterol levels.
FBCx nutritional for Weight-Loss Invented By University Professors
The co-inventors of FBCx are professors Joseph Artiss, Ph.D., FACB and K-L Catherine Jen, Ph.D. both of Wayne State University in Detroit, Michigan. "FBCx is the first new and effective approach to weight loss and management," said Dr. Artiss. Dr. Jen added, "I have spent my entire career studying obesity and FBCx works where others fail to live up to their hype." Dr. Artiss points out that this natural weight loss solution is now available and Bio-Form Essentials USA will distribute Alpha-Fibe FBCx nation-wide to the public via the internet at http://www.ALPHA-FIBEFBCx.com , while seeking product distribution channels in the United States and Canada.
Clinical trial data on obese type 2 diabetics published in the January issue of the tier one
peer-reviewed journal, Diabetes/Metabolism Research and Reviews , changes the face of dietary management in patients with type 2 diabetes. The impressive highlights of this trial include:
Significant (adjusted) weight loss among all participants in the active group
Decreases in serum triglyceride levels of up to 20% within two months
Decreases in blood LDL cholesterol of up to 20% within three months
Subjects in pre-clinical trials, including non-diabetic patients showed dramatic, consistent weight loss with significant decreases in their blood cholesterol and triglyceride levels. Many consumers reported significant weight loss within the first few weeks and over 60 pounds of total weight loss, without changes to their lifestyle or diet.
Nation-wide distribution of this unique patented weight loss supplement will begin under the Alpha-Fibe FBCx label soon. Please visit ALPHA-FIBEFBCx.com for more details. The United States Patent Office awarded ArtJen its first patent for FBCx, with additional US and worldwide patents pending.
Contact:
Ted Brembos
(732) 267-2602
# # #