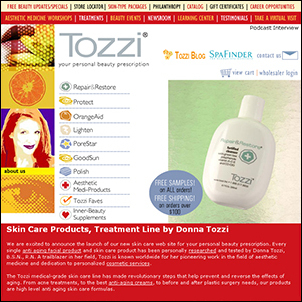 West Palm Beach, FL (PRWEB) March 7, 2007
Creator of the revolutionary Tozzi line of skin care products, Donna Tozzi, is currently seeking retailers, distributors, online resellers, medical spas, med nurses in skin care industry, and beauty experts who would like to provide their customers with a quality skin care product line that is medical grade and safe for both one's skin and the environment.
With the increasing quest of consumers for products that are void of harmful toxins, the world of cosmetics and skin care treatments is taking on a new face. The makeover is in large part due to a global reaction from both consumers and governmental legislation. As the awareness and concern of the effects of chemicals in consumer products increases, retailers are seeing a steady growth of more and more individuals who demand chemically safer products. Donna Tozzi is interested in helping these retailers meet the health and safety needs of consumers.
Anti Aging Tozzi Line
The Tozzi line of skin care products consists of a wide range of anti aging skin care creams, serums, and other treatments that are formulated with special anti-aging properties that are personally researched and tested by Donna Tozzi herself. A pioneer in the field of aesthetic medicine, Donna Tozzi B.S.N., R.N., is a licensed skin care specialist, educator who has over twelve years of experience in providing men and women with safe and effective solutions for achieving and maintaining healthy skin. She has used her knowledge to not only develop her exquisite line of products, and assist plastic surgeons and cosmetic specialists like Dr. Ron Shelton, head of the New York Aesthetic Center in Manhattan, but also to create the world renowned Tozzi Institute of Aesthetic Medicine and Skin Care. Included in the Tozzi line are Repair & Restore green tea cream and fortified cleanser. Both contain green tea as well as vitamins, and soy proteins that promise to help replenish the skin's natural moisture base. Tozzi's OrangeAid and PoreStar treatments are also formulated with vitamins and are rich in antioxidants to help protect the skin without dryness or irritation.
For Retailers, Distributors
Retailers now have the opportunity to provide their customers with safe and effective Tozzi skin care treatments as well as inner beauty supplements. Featured in popular publications such as Women's Health and the New York Times Magazines, the Tozzi line enables individuals to achieve a healthier look as well as enhance the results of cosmetic procedures, by helping one heal more naturally. Popular Tozzi favorites also include vitamins for immune support and aromatherapy candles made of clean-bringing 100% soy, which are free of petroleum, hydrocarbons, and other environmental pollutants. Those interested in learning more about the Tozzi line or Donna Tozzi herself may visit http://www.tozzi.biz for further details as well as contact information.
Interested in a Personalized Beauty Prescription?
The Tozzi philosophy states that it isn't one's skin that should reveal their age. With a passion for beauty integrated into every product she provides, Donna Tozzi invites retailers as well as individuals to attend the upcoming Juvederm workshop on March 24th - 27th - 2007 at the famous Chesterfield Hotel Palm Beach, Fl.. The workshops consist of Botox for the beginner. Special guest speaker attending and presenting 'Compliance'issues in each attendees state. Dermal Filler Workshop. Special guest from UK attending and contributing to event and TOZZI Institute tour and product knowledge. For complete details vist The Tozzi Institute of Aesthetic Medicine and take a virtual tour.
For tips of skin care and anti aging visit Donna Tozzi Skin care blog and to purchase anti aging facial product line visit her web site. http://www.tozzi.biz.
# # #