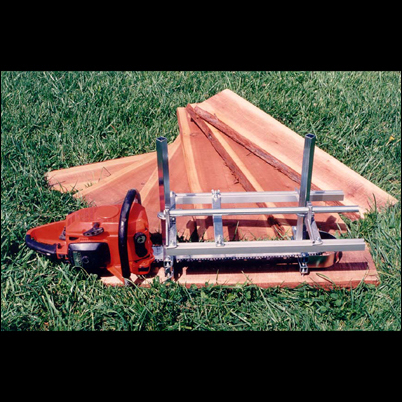 I bought an Alaskan sawmill to cut building lumber for the farm
Vallejo, CA (PRWEB) March 7, 2007
Woodworking hobbyists, professional carpenters and furniture-makers all tend to be energetic, self-starters with an affinity for the Great Outdoors. Not only do these rugged individualists live for the creative rush that comes from building fine tables, chairs, decorative trimmings, household objects and even houses from scratch, many would prefer to harvest their own raw materials.
The problem is that conventional woodcutting and processing is an extremely laborious process often entailing use of heavy and expensive equipment such as band saws, trucks and cranes. All amount to business as usual for lumberjacks, but for would-be wood harvesters the tools of the timber trade are often out of reach and impractical. What do-it-yourselfers need is a wood working tool solution that allows them to, well do it themselves, as cheaply and easily as possible.
A portable saw mill is an inexpensive and practical solution for anyone in need of their own lumber. Even more importantly, however, it makes it possible for woodworking artisans to mill expensive and unusual wood. The concept is simple. Mill attachments convert an ordinary chainsaw into a full-blown sawmill, small and light enough to hand-carry to a worksite. A portable saw mill also costs less than conventional wood working tool equipment and accessories.
Don Dunklee is a dyed in the wool do-it-yourselfer. A native of Davison, Michigan, Dunklee has spent more than half of his 50+ years on a wind and solar-powered organic vegetable farm he constructed from the ground up.
"I bought an Alaskan sawmill to cut building lumber for the farm," he says. "At the moment I'm using it to harvest catalpa wood for a porch on my house, and to put matching sidings on two outbuildings. I also plan to cut several 12x12 foot logs for placement over an outdoor fire pit. There's an awful lot you can do with portable saw mills, you can't do with band sawing. You can carry the mill deep into the woods with no trouble at all, and when the work is done at the end of the day literally hang it on the wall."
The Alaskan Mark III Chainsaw Mill is the brainchild of Granberg International, a Vallejo, California-based, family-operated manufacturer of high-quality equipment for sharpening saws and milling lumber. Granberg also produces a mini clamp-on style mill roughly half the size of the Alaskan.
"One of the greatest assets of both the Alaskan, and the Mini Mill is the fact that they're so easy to install," Dunklee adds. "It's all a matter of putting a mill on a chain saw, and tightening up the two little bolts that secure the mill unit to the blade."
"The truly unique thing about the Alaskan Mill is the fact that it can be used to cut wide slabs of wood," Granberg adds. "It will also cut to the curve of a log, which is very tough to do with conventional equipment. With it you can cut dimensional lumber or a natural edged slab. It will cut beams and siding as well, and specially-cut timber for boat-building."
With prices that start at $90 and up, portable saw mills are affordable when compared to a band saw and its expensive accessories.
For more information contact Eric Granberg at Granberg International, 289 Pintado St, Vallejo, CA 94592; Phone (707) 562-2099; Fax: (707) 562-2091; or visit the web site http://www.granberg.com.
# # #