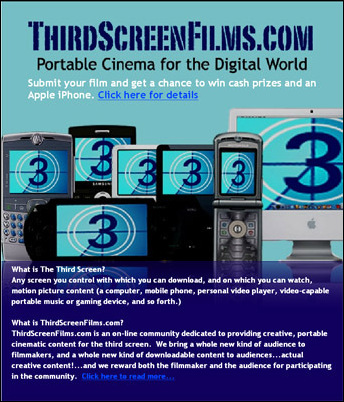 This concept has been simmering with us for a while now
Chicago, IL (PRWEB) March 7, 2007
Creative Producers Bobbi and Mark Henderson announced today the launch of ThirdScreenFilms.com, an online film festival and community dedicated to promoting and distributing creative, cinematic digital media arts content for third screen devices such as mobile phones, personal video players, and video-capable portable music or gaming devices.
"This concept has been simmering with us for a while now," said founder Bobbi Henderson, "but it really came into focus earlier this year. What we've done is to combine the delivery capabilities of the internet, the video capabilities of various small, highly portable devices, and the excitement of an ongoing film festival, in such a way as to assure a constant flow of the creative, short film content that audiences demand."
ThirdScreenFilms.com separates itself from seemingly similar digital media arts content and contest websites in key ways. While all levels of filmmaker are invited to submit to the site, all films must meet the same festival-like standards. "This is not the place for that grainy clip you captured with your cell phone of your cat jumping onto your mom's new hairdo." said co-founder Mark Henderson. "There's no censoring here, but before we post content for members to download, screen, rate and review, we make sure each film meets basic technical, aesthetic and community standards so that the audience gets the quality they're looking for," he added.
Community members may sign up for free, and from the website's Screening Room they will be able to download films in formats that are specifically prepared for their computers, mobile phones, video-capable portable music players and video-capable gaming devices. Additionally, users will soon be able to sign up for text message and email alerts that notify them when films from specified filmmakers or chosen genres of films are available and have these sent instantly to their wireless video-capable mobile device or computer.
Members will be able to rate and write reviews about the films they've seen and, at the end of each contest period, ThirdScreenFilms.com will award cash prizes for Best of Show and category-winning films. The ongoing film festival will also benefit the audience, since ThirdScreenFilms.com will be selecting a random voting community member to receive a cash prize. "We're starting with six basic film categories," said Bobbi, "but as the community grows we have every intention of expanding the categories and enhancing the prizes to meet the community's expectations." Mark points out, "In this first contest, films that win in the six categories, and one voting audience member, will each receive a $100 cash prize, and the Best Of Show winner will not only receive an additional $300 cash prize, they'll also receive the coolest new third screen device there is: an Apple iPhone."
Though filmmakers are being invited to submit their work now, the Screening Room for the first contest won't open until May 1st, allowing time for a comprehensive film collection to be formed. "But after May 1st, the Screening Room will never close. From there on it'll be nothing but good quality cinema ready for you to enjoy whenever you want and wherever you are." said Mark.
For more information on the ongoing ThirdScreenFilms.com film festival or to join the digital media cinematic appreciation community, please visit ThirdScreenFilms.com.
About ThirdScreenFilms.com:
Formed by Bobbi and Mark Henderson, ThirdScreenFilms.com, will serve both as an online community of cinema buffs and an ongoing film competition and festival.
###