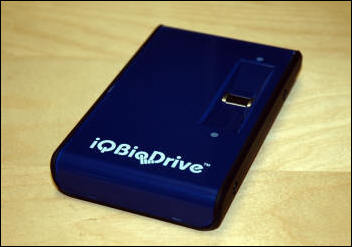 Year of Personal Data Breach
Freeland, WA (PRWEB) March 7, 2007
As a global leader in biometric security, Artemis Solutions Group (ASG) today announced the immediate availability of the iQBioDrive™ Portable Biometric Hard Drive With BioCert® CryptoLokr™ AES 256 Bit Cipher Encryption.
"Your Data - Your Choice - Your Security"
The iQBioDrive is being marketed by ASG as a device for secure personal portable data and an enabling solution for HIPAA, PCI-DSS, SARBOX and GLBa compliance. Starting at only $149.95, the iQBioDrive comes in 80GB, 120GB and 160GB capacities and is completely portable using only a USB connector to attach to any computer.
As chronicled on its iQBio Blog, 2006 was the "Year of Personal Data Breach" with over one third of the United States population potentially exposed to identity theft. ASG has continued to catalog the portable data release carnage into 2007 and has on its Data Breaches Blog detailed the unauthorized release of over twenty two and a half million personal records as of February 12th, 2006.
"This pandemic of stupidity has to stop" states James Childers, CEO of ASG. "Congratulations, you may be the current or potential future victim of identity theft without even knowing it - all courtesy of an illegal release of your information by your State, Federal Government agencies or big business, each with a responsibility and a legal mandate to protect your private data. The odds are fairly good that your private data is currently available to anyone who might be looking to use it for identity theft, personal profit, or even more dubious actions.
The daily onslaught of media reports regarding the illegal or accidental disclosures of data are reaching pandemic proportions. The word "epidemic" does not even begin to describe the level of stupidity with regard to the warehousing, storage, transport and stewardship of individual private data.
"Your data is valuable. Your data is in demand. Your private data is everywhere. Protect it!"
The solution being marketed by ASG's BioCert Division through its online websites and distribution partners is the iQBioDrive™. The iQBioDrive is a portable USB fingerprint secured hard drive that plugs into your USB port and provides secure access through fingerprint authentication to the data that is stored on a biometrically locked and encrypted partition.
The CryptoLokR™ AES256 secure encrypted partition on the iQBioDrive is set to Multi-Factor (Triple Factor) Authentication incorporating a token, fingerprint and secure password. This security method means that you must first use your fingerprint to unlock the "Secure Partition" of the drive and then use a secure password and then the drive checks against a hidden encryption key located on the drive to finally mount the "Encrypted Partition" creating a super-secure method of storing your most private data.
The iQBioDrive is the first available portable hard drive that gives you the option of storing data in one of three different storage areas with three increasing levels of security:
Public Partition (Open Security) - This drive partition which is factory defaulted to ~ 10% of the drives capacity is available whenever the drive is plugged into a computer. Items stored in this area are ALWAYS available whenever the drive is attached to a PC. Examples of items that you might want to store in this volume are portable anti-virus programs or sales presentations (with publicly available data) that you want to run from any PC.
Biometric Secure Partition (Biometric Locked Security) - This drive partition which is factory defaulted ~ 15% of the drives capacity and is available when the user authenticates with their fingerprint. This area of the drive has a higher security level than the Open Partition but does not have encryption.
Encrypted Secure Volume (Multi-Factor Security) - This drive volume is a sub-set of the Biometric Secure Partition which is defaulted to ~ 75% of the drives capacity and is available ONLY after authenticating with your fingerprint and then verifying your identity with a secure password and/or keyfile.
Using AES256 Standard Encryption with a private encryption key, a high security password and biometric identification, this three-factor authentication system makes the iQBioDrive one of the most secure portable storage devices on the market today.
The iQBioDrive is immediately available through Biometrics Direct, iQBio's webstore, Amazon.com, and other distribution partners in 80GB, 120GB and 160GB capacities at $149.95, $219.95 and $299.95 respectively.
Additionally, through a partnership with Comodo, ASG is including applications to secure the host PC.This suite of free desktop security solutions (with no subscription or renewal fees) includes:
Firewall - rated an Editor's Choice by PC Magazine
VerificationEngine - the anti-phishing solution that authenticates web content
Anti SPAM - uses challenge/ response technology to clear inbox of SPAM
E-Mail Certificates - allows you to digitally sign and encrypt emails
Back-Up - utility that allows users to quickly and easily create backup copies of critical files.
For more information about the iQBioDrive, go to Biometrics Direct
Artemis Solutions Group (ASG) is a closely held, private security firm specializing in fingerprint biometric and smart card security solutions. With offices in the US, Europe, and Canada, ASG sells directly and through its global network of resellers and system integrators best of breed biometric and smart card security systems to small & medium business and local government agencies throughout the world. ASG markets a range of computer, software and consumer products under its properly registered and owned trademark BioCert®, BioSaf® and iQBio™ through a network of domestic and international resellers and extensively on the Internet through their owned and operated websites.
###