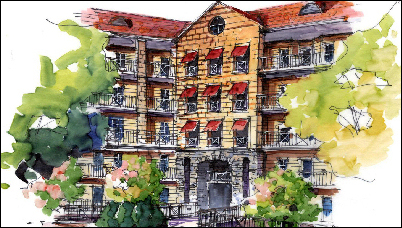 We wanted to honor our home, which has been such a great place to grow up and live.
Union Grove, AL (PRWEB) March 7, 2007
The official pre-construction sale date for the proposed Emerald Point on Smith Lake will be announced soon, according to developer Melinda Edwards.
"In fact, the announcement can come at any time now," Edwards said. "We are tying up some minor loose ends, but there's nothing stopping us from making the announcement." Speculation regarding the upscale Smith Lake condo project's official sale date will soon be put to rest also, according to Campbell. Emerald Point on Smith Lake is on the verge of making a very big announcement. We expect to be sending out complete sales packages within a few days, parties should have already requested placement on our reservation list, or should do so immediately."
Much attention has focused on the upscale condos development proposed for Ryan's Creek, with rumors circulating that phase one has already sold out. "It simply isn't true that we have sold all units already," Edwards said.Interest has been intense -- and competitive, to say the least, but we have not delivered any contracts or documents of any kind to any prospective buyers. But we will, very soon."
Phase one of the lakefront property is a proposed six-story building with 54 units to be constructed by noted Birmingham general contractor Brasfield and Gorrie. The design by mountain Brook architect Lewis McKinney of Horizon Design features cedar shake panels and Eldorado tone. Proposed features and amenities include docks, swimming pool with pavilion, boat dry storage and at least one fireplace in each unit. Units will be around 1,500 square feet, according to Edwards, in three different designs. The Ryan and Laurel units will have three bedrooms and three bathrooms. These units are named respectively for the branch of Smith Lake where the development will be located, and the flowering bushes which grow in the rocky bluffs there.The final unit is named the Kullman. "This is our most unique and sought-after unit," Edwards said. "We wanted to honor our home, which has been such a great place to grow up and live." The Kullman is a two bedroom, two bath unit which sports a smaller bunkroom and wood-burning fireplace on the terrace.
Edwards said that interested parties who have registered on the Emerald Point buyer's list will receive offers to purchase prior to announcement and release to the general public. "It's very important that people register to be notified prior to sale date. As I said, we haven't begun officially selling units yet, but there are some very motivated folks out there who seem to like our concept a great deal."
Edwards would not specify when pressed about a possible pre-construction sale date for the proposed Smith Lake Condo. "March may be a bit early, but maybe not," she said.
Provided by Pearl Real Estate Marketing Huntsville Alabama a Huntsville Alabama real estate Company.
# # #