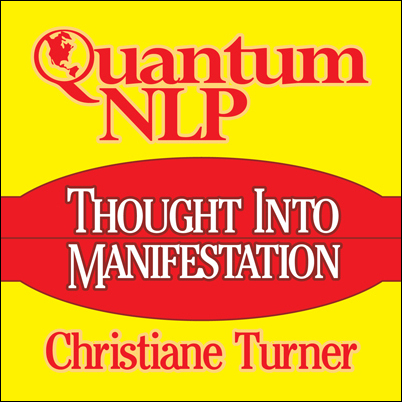 . She is a Universal Tour Guide.
New York City (PRWEB) March 8, 2007
New scientific discoveries show us clearly that we are creating our reality through the use of our language. By teaching ourselves more effective language patterns, our brain automatically forms new neurological pathways which naturally lead to new behaviors and habits.
Christiane Turner, who has been perfecting her skills for two decades, is quickly becoming a worldwide thought leader in the cutting edge field of Neuro Linguistic Programming (NLP), and has taken it to the next level. With her beautiful voice and European accent she invites the listener to join her on a magical journey into the realm of possibility and change as she teaches how to:
-Manifest someone dreams through effective goal setting
-Create internal alignment and congruence
-Deal with someone fears
-Heal someone past
-Create and attract someone own success story
-Support someone goals through behavioral skill building
-Embark on someone own visionary journey
-Become a Master of Manifestation
Christiane has a unique and uncommon passion for NLP. Her dynamic combination of strength and gentleness allows her to lead clients and participants to break-through change. She is a thought-leader with an unforgettable presence in the NLP world. Keep your eye on her. She is someone to watch as her vision grows and her influence spreads."
Lyn Christian PMP, MCC, CFCC President, Soul Salt Inc.
"This is an audio program that I highly recommend from just knowing Christiane and her work! I love how good she is at knowing the right thing to say and do. She is intuitive and definitely is a person that might just change your life forever! Do yourself a favor and treat yourself with this gift because you will absolutely love to play this program over and over! Christiane has made her dream come true for herself and she will help you make your dreams and goals come true too!"
Gary Nordgren, Life Coach
" As a Certified Hypnotherapist myself, I found the advice sage. This is a must for anyone who wants to start their own business and/or does not like "self-help" but instead enjoys "self-solving". She is a Universal Tour Guide. "
Samuel, from Aurora, IL, USA
Author
Growing up in postwar Germany, Christiane Turner's dream of living in the United States and having her own business were seemingly impossible. Yet, even as a child she was already a master at setting high goals and accomplishing them easily. Once introduced to positive thinking, Turner knew she had found her calling in spreading NLP around the world. As an international NLP Trainer she has taught thousands of people across the globe how to create effective change by rewiring their neurology through language. As an alto jazz singer Turner has a very unique voice quality and the most charming European accent that captivates her listeners immediately.
For questions or interviews with Christiane Turner , please contact her office at (801) 979-4799.or visit http://www.quantumnlp.net
About the Audiobook:
Title: Quantum NLP
Author: Christiane Turner
Format: 8CD/ 8 ½ hours
Price: $29.98 (US) / $38.98(CAN)
ISBN: 1-59659-082-3
Available: March 2007
Published by Gildan Media Corp. This audio title is available at all fine book retailers, on-line and as a download at iTunes and http://www.audible.com

Also published this month by Gildan Media: The NOW Habit, Living an Empowered Life, Step Up to Success and Get Organized the Clear & SIMPLE Way.
Your Coach in a Box is a line of personal development audiobooks from Gildan Audio that bring bestselling authors and lecturers directly to you, at the best prices around.
Please visit http://www.gd.simpleology.com for a special offer.
Gildan Audio is a division of Gildan Media Corporation, a multimedia publisher of audiobooks and books. Gildan Audio titles are distributed to the trade by Hachette Book Group USA. More about Gildan Media can be found at http://www.GildanMedia.com.
# # #