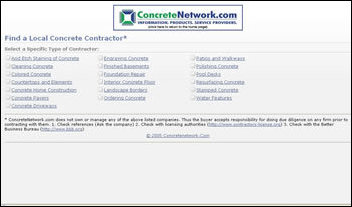 Yucaipa, CA (PRWEB) March 9, 2007
The Concrete Network, the largest and most comprehensive source for concrete information online, offers a Find-A-Contractor service to consumers searching for decorative concrete contractors in the U.S. and Canada. Visitors to The Concrete Network can research and learn about decorative concrete techniques and applications, including stamped concrete, stained concrete, concrete countertops, polished concrete and many more, and then find a contractor in their local area to get the work done. The Web site also offers an extensive decorative concrete photo gallery filled with hundreds of completed projects perfect for gathering design ideas.
The site excels at connecting buyers with local contractors in their area through its Find-A-Contractor service. The service provides visitors with a list of decorative concrete contractors throughout the U.S. and Canada, and is fully searchable by 23 types of decorative concrete work and 200 metropolitan areas throughout North America.
Buyers are free to view all contact information for each contractor without having to supply any personal information. The current contact information (phone number, email address, and website) is provided for each company in the directory along with a description of the type of work the company provides. Consumers can simply contact the companies directly.
Established in 1999, The Concrete Network's purpose is to educate consumers, builders, and contractors on popular decorative techniques and applications including stamped concrete, stained concrete floors, concrete countertops, polished concrete, and much more. Over 872,000 visitors researched The Concrete Network Web site in June, 2006.
Attached photo courtesy of Surfacing Solutions.
###