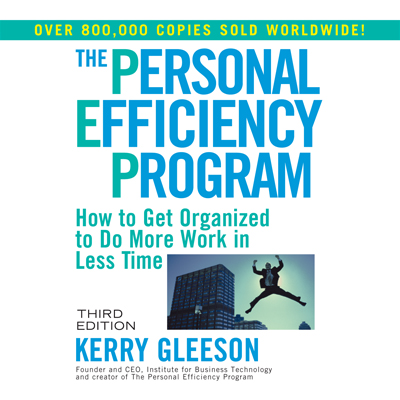 ..brings the art of time management up to date....
New York City (PRWEB) March 8, 2007
More than 800,000 people worldwide are already working faster and smarter, and adjusting their career paths upward thanks to Kerry Gleeson's revolutionary program, The Personal Efficiency Program.
Find out how to get organized at work, get more done, and carve out more time to do what you really want to do. We all juggle work life and personal life and worry that we spend too much time and effort paying the bills to fulfill our other roles as parents, spouses, and friends. This program will help you work more quickly and efficiently, freeing up more time for the life you live outside the office.
It will show how to:
Cope with information overload
Make technology do your work for you
Establish workable schedules and stick to them
End procrastination and its repercussions
Improve teamwork and run more productive meetings
Spend more of your time on the really important work you do
Spend less time at the office and more time kicking up your heels
"..brings the art of time management up to date.... " (Times )
About the Author
Kerry Gleeson is founder and CEO of the Institute for Business Technology (IBT) International. IBT has advised more than a million executives on workload management procedures at such leading companies as General Motors, Texaco, Westinghouse, Shell, Exxon, Nissan, Lever Brothers, Hewlett-Packard, and many more.
About the Audiobook:
Title: Personal Efficiency Program
Author: Kerry Gleeson
Format: 8CD/ 8 hours
Price: $29.98 (US) / $38.98(CAN)
ISBN: 1-59659-075-5
Available: March 2007
Published by Gildan Media Corp. This audio title is available at all fine book retailers, on-line and as a download at iTunes and http://www.audible.com/pe

Also published this month by Gildan Media: The NOW Habit, Living an Empowered Life, Step Up to Success, Listening: The Forgotten Skill
Your Coach in a Box is a line of personal development audiobooks from Gildan Audio that bring bestselling authors and lecturers directly to you, at the best prices around.
Please visit http://www.gd.simpleology.com for a special offer.
Gildan Audio is a division of Gildan Media Corporation, a multimedia publisher of audiobooks and books. Gildan Audio titles are distributed to the trade by Hachette Book Group USA. More about Gildan Media can be found at http://www.GildanMedia.com.
# # #