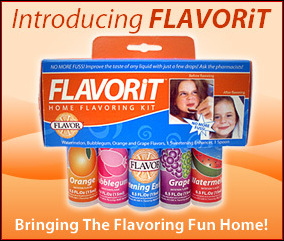 Because FLAVORx has been prepared behind-the-counter until now, many patients don't realize that they can have OTC's and other bad tasting liquids flavored. With FLAVORiT, our goal is to eliminate the struggles parents face when it comes to all bad-tasting liquids, not just prescriptions
Bethesda, MD (PRWEB) March 8, 2007
Most patients, especially kids, know that prescription medications aren't typically something to look forward to. Because of bitter taste and poor smell, liquid medications can be troublesome to swallow. But prescriptions aren't the only liquids in need of a little help.
Common over-the-counter (OTC) liquids such as cough syrups, vitamins, analgesics, antacids and infant formulas are often just as detestable to pediatric, and even adult, patients. Results from FLAVORx studies show that OTCs such as Mucinex, Poly-Vi-Sol, any Iron product, Robitussin, Tylenol, Triaminic and Motrin top the list for the most commonly flavored. With the introduction of FLAVORx's new at-home flavoring system, FLAVORiT, consumers are now able to remedy OTC taste issues right in the comfort of their homes. A FLAVORiT kit lasts most of a season and costs $9.99 at Wal-Mart.
For over 10 years, FLAVORx has been available behind-the-counter as the premiere pharmaceutical flavoring system for medications. Dye-free, sugar-free, alcohol-free, sodium free, phosphate free, gluten free, casein free and non-allergenic flavors have ensured that over 40 million prescriptions have been flavored without any incidence of allergy, adverse reaction or changes in efficacy. Medications are flavored by the pharmacist by following a comprehensive formulary or "recipe book" that details the necessary steps to successfully flavor hundreds of medications.
Using the same quality ingredients and technology, FLAVORx has simplified the instructions for the at-home flavoring kit, making the process easy to implement for consumers. In addition, the combination of available flavors in FLAVORiT (Grape, Orange, Watermelon and Bubblegum) have all proven successful in flavoring a variety of OTC medications and liquids. While many more taste-challenged prescription medications such as Augmentin, Biaxin, Zithromax, Amoxicillin and Cleocin will still require specialized flavoring behind-the-counter (utilizing proprietary agents such as the Bitterness Suppressor and Vitamin-Masking Agent, as well as more involved procedures), consumers can now rest assured that over-the-counter liquids such as cough syrups and vitamins can be easily flavored exactly to their liking at home, at any hour of the day or night. OTC medications used to treat symptoms like congestion, sore throat, cough and fever, as well as vitamins and infant formula can be made more palatable dose-by-dose or in larger volumes. The flavors and Sweetening Enhancer are highly-concentrated, so just a few drops are required.
"Because FLAVORx has been prepared behind-the-counter until now, many patients don't realize that they can have OTC's and other bad tasting liquids flavored. With FLAVORiT, our goal is to eliminate the struggles parents face when it comes to all bad-tasting liquids, not just prescriptions," says Kenny Kramm, FLAVORx President & CEO. "Taste should never have to be a barrier to receiving the right medication at the right time."
FLAVORiT is currently available in Wal-Mart stores nationwide. For more information, please visit http://www.flavorx.com/flavorit or contact Teresa Chen at 800.884.5771 extension 234.
About FLAVORx
FLAVORx is a pharmaceutical flavoring system used by pharmacists and veterinarians nationwide to improve the palatability of liquid over-the-counter and prescription medications. To date, FLAVORx has flavored over 40 million prescriptions without any incidence of allergy, adverse reaction or changes in efficacy. FLAVORx flavors are non-allergenic, dye-free, sugar-free, phosphate-free and alcohol-free, making them safe for all patients. With over 42 flavors ranging from Bubblegum and Watermelon to Chocolate Silk Pie and Peaches 'n Cream, FLAVORx is sure to please any taste bud whether it's a child or an adult. In addition, 16 animal-inspired flavors such as Crispy Bacon and Salmon Steak help medications go down a little easier for FLAVORx's veterinary friends as well.
###