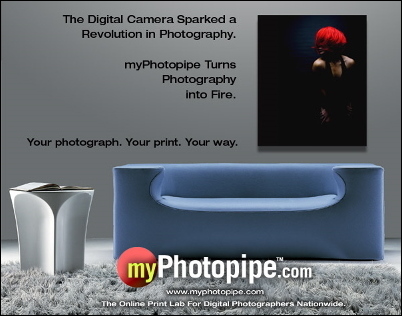 This is a milestone event in our Company's history, and a real credit to our team of professionals
Atlanta, Georgia (PRWEB) March 8, 2007
myPhotopipe.com, Inc. (OTC: MPPC.PK), a web-based online provider of digital photo processing and related services, today announced that it has been awarded a contract from the U.S. Department of Homeland Security (DHS). The award calls for myPhotopipe.com to provide photographic printing and design support services to the DHS Office of Public Affairs. The Office of Public Affairs chronicles the agency's responders, documents incident response teams, travels with Secretary Michael Chertoff, and provides photographic prints to the agency's internal users as well as to the media and the general public.
"This is a milestone event in our Company's history, and a real credit to our team of professionals," stated L. Douglas Keeney, Chief Executive Officer of myPhotopipe.com, Inc. "Homeland Security is a high profile agency with activities that touch hundreds of thousands of lives. Our job is to help then chronicle their activities by supporting them with professional quality prints, a task to which we're ideally suited. Our people are very good at creating customized digital photo templates, using our digital photo tools to manage color profiles, and maintaining print quality throughout the process. DHS will be put these resources to good use."
The contract is effective immediately, said Keeney. It will involve each of the company's departments from online proofing to photo retouching to print processing. "The importance of this contract extends beyond the very significant revenue potential it represents for us because it also illustrates why our industry is getting such a boost from the digital photo. No matter where DHS goes, a digital camera is there, a photograph is taken and with the click of a mouse that photograph can be uploaded to our lab and cued to be printed. In just a day or two we can provide an incident team with a photo montage of their exercise or provide a local community with prints from photos taken during an on-site visit from the Secretary. In the film era that process would take weeks if not months and often not at all thus losing to history important events in people's professional lives and our nation's history. No longer. We are thrilled, and at the same time honored, to help one of the largest branches of the United States government accomplish its mission."
The Department of Homeland Security, which was created in 2002, has 180,000 employees and includes the following agencies, among others: Transportation Security Administration (TSA), U.S. Customs and Border Protection, U.S. Citizenship and Immigration Services, U.S. Immigration Customs Enforcement, U.S. Secret Service, Federal Emergency Management (FEMA), and the U.S. Coast Guard.
About myPhotopipe.com, Inc.
myPhotopipe.com, Inc. is a web-based (2.0) online provider of digital photo processing, photo finishing, photo sharing, and related services. The Company's unique blend of 94 print options, combined with manual print inspections and professional color management, have positioned myPhotopipe.com as one of the fastest-growing providers of digital photography services for professionals and serious amateurs.
The Company is headquartered in Atlanta, Georgia, and its common stock is listed on the OTC Pink Sheets under the symbol "MPPC". Additional information is available on the Internet at http://www.myPhotopipe.com.
###