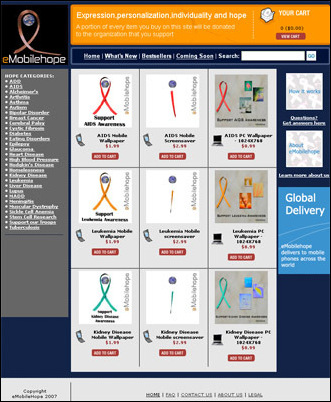 eMobileHope.com allows everyone to mobilize their personal awareness
Seattle, WA (PRWEB) March 8, 2007
The colored ribbons that serve as international symbols for causes like AIDS research, cancer prevention and troop support have taken several forms over the years, including magnetic versions for cars and color-coded rubber bracelets.
These variations have fueled more than just awareness; they've boosted a demand for new venues to promote and share support for noble causes. A new online company, eMobileHope.com, is working to meet that demand by introducing awareness group ribbons in a whole new way: as mobile screensavers and wallpaper for cell phones, PDA devices and personal computers. eMobileHope is the first company to bring these powerful symbols to the digital devices that millions of users already customize as forms of self-expression.
Though the classic lapel pin ribbons and other incarnations have existed for some time, eMobileHope.com President and founder Sean Humphrey noticed that they hadn't made the jump to common mobile devices. Since cell phones, laptops and PDA are so often treated as fashion accessories, he found they would be the perfect place to combine support for causes with the need for personalization.
There are currently more than two dozen different causes listed on eMobileHope.com, each with links to mobile screensavers and wallpaper designs in a variety of available display ratios. The company has committed to donating a portion of each sale to an organization that fights the disease or supports the cause of the item purchased.
"eMobileHope.com allows everyone to mobilize their personal awareness," explains Humphrey. "Awareness should be Mobile and Global™ and that is what we hope to accomplish with these products."
Because many different disease awareness groups and social causes use identical or similar ribbon colors, each screensaver and wallpaper is personalized with the specific name of the associated cause.
Current designs include the familiar pink awareness group ribbons of breast cancer groups and red ribbons for AIDS awareness, as well as some lesser known ribbons like lavender for Hodgkin's Disease and teal for bipolar disorder. New versions are scheduled to be added soon, including awareness for cerebral palsy, autism and Mothers Against Drunk Driving. The available awareness groups extend far beyond health issues, covering topics like environmental preservation and improving housing conditions for the poor.
To see the full list of awareness group ribbons available as mobile screensavers and wallpaper, please visit eMobileHope.com.
About eMobileHope.com:
eMobileHope is dedicated to helping others raise awareness for noble causes that include disease, environmental concerns, troop support, social change and others. A wide variety of personalized screensavers and digital wallpaper designs for mobile phones, PDA devices and personal computers are available online at eMobileHope.com. A portion of each purchase is donated to an organization that serves the cause featured in that product.
###