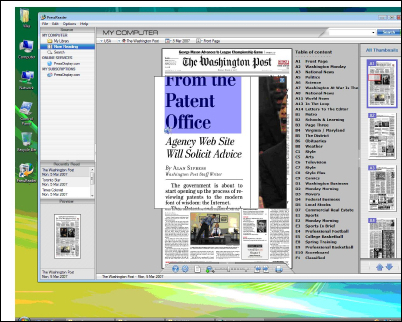 By adopting Windows Presentation Foundation (WPF) technology and integrating its advanced features -- such as automatic text reflow, advanced graphics and search -- into PressReader, NewspaperDirect was able to significantly improve the newspaper reading experience
Vancouver, BC (Vocus) March 8, 2007
NewspaperDirect Inc. announced that its popular application, PressReader, is now optimized for Windows Vista. PressReader provides users with on-the-go access to the daily editions of more than 450 publications available on the company's PressDisplay.com service.
"By adopting Windows Presentation Foundation (WPF) technology and integrating its advanced features -- such as automatic text reflow, advanced graphics and search -- into PressReader, NewspaperDirect was able to significantly improve the newspaper reading experience," said Mika Krammer, director of Windows Client Mobility at Microsoft Corp. "With the launch of PressReader for Windows Vista, NewspaperDirect gives users the same authentic newspaper experience across multiple form factors, including Tablet PCs, Ultra-Mobile PCs and Windows Mobile-based devices. PressDisplay.com helps readers enjoy hundreds of publications from around the world anywhere, anytime and on any Windows-powered device."
Using PressReader, readers can experience the same rich user interface available with PressDisplay.com: publications are presented in their original, published format. Every article, advertisement, crossword puzzle and cartoon is presented in its original context in the paper, with both full graphics or text-only viewing options, interactive tables of contents, cross-title searching, email sharing, and clickable elements such as URLs, telephone numbers, email addresses and "continued on page…" links at the bottom of articles.
"At NewspaperDirect, our design philosophy focuses on creating a positive reading experience for our subscribers," said Alexander Kroogman, CEO of NewspaperDirect. "And with our new PressReader optimized for Windows Vista, we are confident we are offering the international community of Windows Vista users a newspaper-reading experience second to none."
PressReader from NewspaperDirect is available through PressDisplay.com, which offers flexible subscription plans (from free, to pay-as-you-go, to personal unlimited, corporate or professional) that let consumers sample daily newspapers before they buy.
About PressDisplay.com
PressDisplay.com is the most convenient, complete and cost-effective way to read all your favorite newspapers on one site. With a subscription to PressDisplay.com, users gain access to newspapers from home and around the world on the day they are published, often before they hit the newsstands. PressDisplay.com enhances the newspaper reading experience with a simple user interface, easy-to-use navigation tools and powerful search, monitoring, translation, audio and sharing functionality. Flexible subscription plans are available (free, pay-as-you-go, personal unlimited, corporate and professional), allowing users to try PressDisplay.com before they buy. To learn more, visit http://www.pressdisplay.com.
About NewspaperDirect Inc.
Founded in 1999 and based in Vancouver, BC, Canada, NewspaperDirect Inc. is the world leader in digital delivery and local printing of same-day newspapers from around the world. NewspaperDirect offers hundreds of newspaper and magazine titles through a global network of more than 1,200 print locations in more than 90 countries, delivering them to hotels, libraries, cruise ships, corporate offices, retail outlets, home subscribers and Web browsers everywhere. As a Microsoft Premium Partner, NewspaperDirect develops content applications for Tablet PCs and Ultra-Mobile PCs.
To learn more, visit http://www.newspaperdirect.com.
Media contact:
Tim Cox | ZingPR | tim-at-zingpr.com | +1-650-369-7784
The names of actual companies and products mentioned herein may be the trademarks of their respective owners.
###