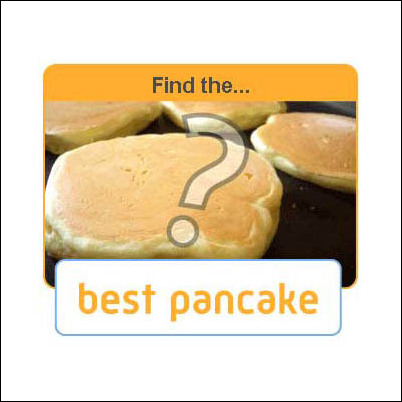 We're very excited to get the first Food Fight under our belts
Seattle, WA (PRWEB) March 9, 2007
Building upon the momentum of the inaugural contest, Menuism.com launches the next "Food Fight" in search of the best burger in the Seattle, Chicago, San Francisco and New York areas during the month of March.
The February launch of the "Food Fight" contests solidified Menuism.com as the leader in the online, consumer-driven, food-focused movement. "We're very excited to get the first Food Fight under our belts," says Menuism.com co-founder John Li. "Our user-centric approach is clearly more democratic and inclusive than the filtered choices from TimeOut, AOL Cityguide, Citysearch and others. We look forward to spreading the word and giving the top pancake restaurants the recognition they deserve."
The best pancake reviewers for the February contest, as chosen by the Menuism.com community, were:
New York - tychenyt
Chicago - ericjohnolson
Seattle - PBT
San Francisco - fugigigi
These winners received $50 gift certificates to restaurants of their choice, as follows:
For the overall contest, the Menuism.com community chose the following pancakes as the best in their areas:
New York - Silver Dollar Blueberry Pancakes at Agave
Chicago - Swedish Pancakes with Lingonberries at Ann Sather Restaurant
Seattle - Potato Pancakes at Chaces Pancake Corral
San Francisco - Pancake Special & Scones at Home Plate
"I'm excited to have a great list of pancakes to try in each city," commented Menuism.com co-founder Justin Chen. "People will have different opinions about what's best, and they can still contribute their favorites on Menuism.com and our lists will update accordingly. I'm really looking forward to finding some great new burgers for March - I'm sure everyone loves burgers as much as I do."
During the month of March, diners in each area can post their opinions about their favorite burgers at Menuism.com. At the end of the month, Menuism.com will honor the restaurants with the best burgers as well as the top burger aficionados.
Hungry diners can go to the Food Fight contest page for full contest details, eligibility and past results. Menuism.com will award prizes to the top burger reviewers and those that referred them. Reviewers are ranked by the amount of participation and passion received from the Menuism.com community.
About Menuism.com
Menuism.com is a food-focused community website where you can "rate what you ate" at restaurants. Menuism.com helps you decide where and what to eat by tapping into the experiences of your personalized food network and the food community at large. Visit Menuism.com for more information.
###