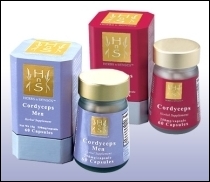 HERBSnSENSES™ Cordyceps really is an innovative blend of tradition and technology
(PRWEB) March 10, 2007
Traditional Chinese medicine has taken an important step into the 21st century with the launch of HERBSnSENSES™ Cordyceps from global interactive marketing company QuestNet.
A revolutionary health and wellness product that utilizes ancient healing powers, HERBSnSENSES™ Cordyceps will now be available to hundreds of thousands of people worldwide via QuestNet's e-commerce and interactive marketing portal.
Cordyceps, also known as Dong Chong Xia Cao, is native to the Himalayan regions of Tibet and Nepal and has been used in local medicine for thousands of years. Rare in occurrence and difficult to harvest, Cordyceps has only been available to wealthy and influential individuals in the past. It was used widely by Chinese Emperors and members of their families to treat a variety of ailments.
"HERBSnSENSES™ Cordyceps really is an innovative blend of tradition and technology," said Mr. Joachim Steffen, Group Director of Product Development. "We have taken a big step forward by looking to the past for answers to today's healthcare problems. By combining thousands of years of accumulated knowledge about the benefits of Cordyceps with some of the most advanced scientific harvesting techniques, we are introducing a product that is going to appeal to a lot of people."
Containing a rich array of proteins and amino acids, the health properties of Cordyceps are well documented. It is used to help redress balance in patients who suffer from immunity deficiencies, as well as those with low blood sugar levels and symptoms of chronic fatigue. Vitamins contained in HERBSnSENSES™ Cordyceps help to improve the metabolism and strengthen cellular immunity functions.
HERBSnSENSES™ Cordyceps is cultivated in laboratories, using advanced biotechnological methods. This ensures that the active ingredients are present at higher than normal levels, making the product even more effective than naturally occurring varieties which grow in the wild.
HERBSnSENSES™ Cordyceps is offered by QuestNet in two separate programmes: HERBSnSENSES™ for Men and HERBSnSENSES™ for Women.
About QuestNet
QuestNet is a leading interactive marketing company serving 2 million entrepreneurs across the globe. Through its industry-leading marketing services, QuestNet is a distributor of technology products, limited edition coins and medallions, jewellery and timepieces, vacation club memberships, and lifestyle products. For more information, please go to http://www.quest.net.
For more information, please contact:
Mark Leeper
Telephone: (852) 2827 1889
Fax; (852) 2802 0981
###