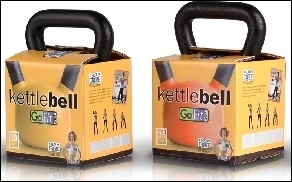 At first it was a few requests, which soon turned into immense interest, and before you know we were overwhelmed by the amount of industry appeal that kettlebells were receiving -- we knew we were on to something big.
La Jolla, CA (PRWEB) March 12, 2007
Creating a buzz as the next major revolution in the fitness world, kettlebell fitness equipment and instructional DVDs will now be available for the first time through retail sale by Summer 2007. America's leading manufacturer of hand held exercise products -- GoFit, has just announced a strategic alliance with Iron Core Kettlebell Strength and Conditioning, the first and only fitness studio in the Unites States exclusively devoted to the quickly growing kettlebell workout program. Located in Southern California, Iron Core is owned by Sarah Lurie -- the nation's premier kettlebell expert who will serve as the new face of the Iron Core Powered by GoFit collaboration.
Until this point, kettlebell equipment has only been available by mail order or via the web, presenting a major hurdle for the exploding kettlebell phenomena and its many followers. Developed in Russia over a century ago, a kettlebell is a cast iron ball, which typically ranges from nine to 88 pounds. Equipped with a suitcase-like handle, the kettlebell delivers an intense workout that can be done in half the time of a traditional workout, while producing twice the results. Celebrities, such as Jennifer Lopez, Penelope Cruz, Lance Armstrong, Mariska Hargitay, Sylvester Stallone, Claire Danes Kim Cattrall and Matthew McConaughey -- as well as exercise enthusiasts and athletes alike are trading in traditional barbells and dumbbells in favor of the latest tool to stay fit.
Currently, kettlebells are sold online at an individual price that ranges from $80-$200. The Iron Core powered by GoFit products will begin at $29.99, making the workout both accessible and affordable for the first time. A beginner's kettlebell kit will include a start-up DVD starring Lurie, as well as a kettlebell designed to teach newcomers the basic techniques of the workout routine. The kit will be offered with a 10-, 15- or 20-pound kettlebell to suit a variety of fitness levels. Additional DVDs and kettlebell sizes will be offered for intermediate and advanced workouts, providing the user with the ultimate interactive workout experience.
"After producing a wide array of cutting-edge fitness equipment, we started to hear a great deal of buzz from our major retail partners who all had customers that wanted to know more about the new kettlebell workout," says Richard Davis, President and Co-Founder of GoFit. "At first it was a few requests, which soon turned into immense interest, and before you know we were overwhelmed by the amount of industry appeal that kettlebells were receiving -- we knew we were on to something big."
Davis then went on a nationwide hunt, searching for an enthusiastic and knowledgeable kettlebell specialist to represent the new and exciting fitness trend. Sarah Lurie, the petite powerhouse of Iron Core was a natural fit for the collaboration, as a Certified Personal Trainer, specializing as a Certified Russian Kettlebell Instructor. Lurie currently has an at-home kettlebell workout DVD series, Kettlebells the Iron Core Way, which is available on Amazon. The collaboration will give GoFit the exclusive rights to the series.
For more information, visit http://www.GoFit.net, or call (858) 551-CORE (2673) or view kettlebell video clips at http://www.IronCoreLaJolla.com
ABOUT GOFIT:
Founded in 1999, GoFit products are sold in approximately 4,000 retail stores nationwide, including national retailers and full line sporting goods chains across the nation -- and range in everything from medicine and stability balls, commercial grade equipment and exercise bikes, to several editions of Athletes' Performance DVDs specializing in core strength.
ABOUT THE KETTLEBELL WORKOUT:
Kettlebell exercise routines are for males and females of all ages, focusing on building functional strength by conditioning muscles that are used in everyday activities while delivering a complete cardio workout. The result is increased stamina and strength without the bulky muscles typical of traditional weight lifting.
The kettlebell exercise program strengthens the body from all angles -- each muscle in the body is worked during a typical kettlebell workout. Exercises mimic everyday movements such as picking up grocery bags, gardening or even flipping a mattress.
Kettlebell workouts are also ideal for those who engage in recreational sports, such as, golfing swimming, hiking, cycling and kayaking, surfing or playing tennis. Exercises focus on building one's core, endurance and strength, while enhancing one's mental discipline.
Using kettlebells instead of other kinds of weights can reduce the chances of an exercise-related or non-workout-related injury, which can often sideline one's regular routine. Kettlebell workouts are also ideal for those recovering from sports-related injuries or going though other physical rehabilitation programs.
###